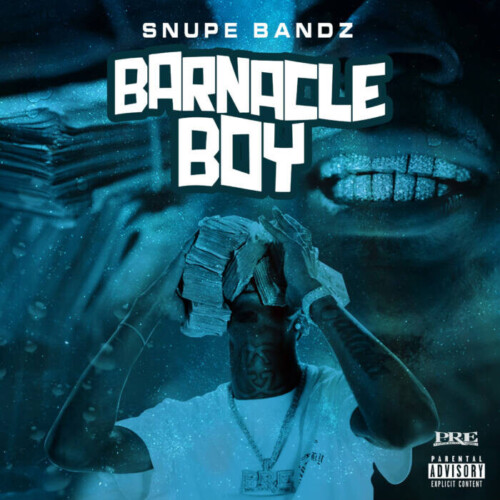 SNUPE BANDZ stands out in the Memphis scene with his tumbling flow, wry charisma, and an endless appetite for flexing. Proudly displaying his Paper Route Empire loyalty in his latest video, SNUPE BANDZ proves that he's much more than a sidekick in "Barnacle Boy." Sinking his teeth into an ice-cold instrumental from Sosa 808, SNUPE dexterously spins a tangled web of creative boasts, inspired by a deep cut character from Spongebob Squarepants and his aquatic nature: "Jumped in the ocean like we're swimming with the sharks/I'm a big whale, n****, I'm a big shark/No flaws in my diamonds, I shine in the dark/Whole lotta ice on my neck like a water park." In the video, SNUPE turns a routine trip to the grocery store into a block party, gathering his crew for an impromptu party in front of a Young Dolph mural in Memphis.
SNUPE BANDZ is one of the hottest newcomers in the Memphis scene, making his name with the Young Dolph and Key Glock collaboration "Blu Boyz," another successful Young Dolph collaboration in "Nothing To Me," and the solo street hit "Remember" (884k YouTube views). "Barnacle Boy" comes on the heels of "I Know Why," SNUPE's futuristic video from Paper Route Empire Presents: Long Live Dolph. SNUPE BANDZ made two standout appearances on that compilation tape, shining on his own in "I Know Why" and performing a duet with Joddy Badass in the sensual "I Like." SNUPE plans to connect with labelmate Paper Route Woo–who made it happen last week with a new video of his own–for Boyz In The Hood, coming later in 2022.
© 2022, Seth Barmash. All rights reserved.