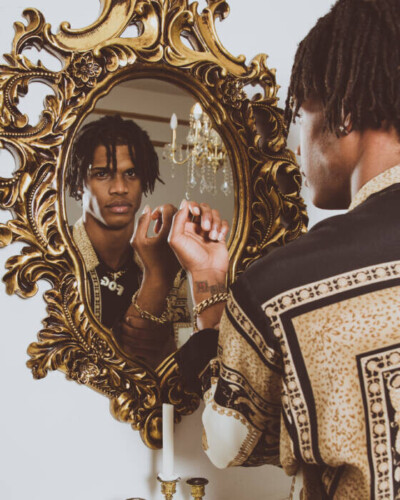 Can Caribbean Musicians get some love?!!!
We cover plenty of artists and sometimes we need to show love to the REAL music influencers in the music game. Son of Mars is a Musician / Producer from Trinidad and Tobago, based in New Jersey and he's been making headlines all over the internet in multiple genres. Mars just announced he's dropping a new single called Flip set for release on Feb 28.  "Flip" will be the Artist / Producer's first Melodic Caribbean Hip-hop Track, "It's basically a mix of his native instruments like the steel pan and congo with a fun happy vibe", says Son of Mars.
This release will be his latest creative transformation in his production evolution. The last few releases were all different sub-genres of Hip-hop as he is experimenting with different sounds and melodies and seeing what his favorite vibe is going to be.
Asked what his favorite house sub-genre was, Mars replied "Caribbean Hip-hop will forever have my art.  It's fun, high energy, and makes everyone go crazy".
Son of Mars is labeled as an open format Musician as he specializes in creating multi-genre blends but always favors Caribbean Hip-hop. This has enabled the producer-artist to take the internet by storm with his custom Caribbean Hip-hop mashups and remixes of his favorite songs that feature popular Hip-Hop vocals mashed up with more well-known Soca and Calypso instrumentals. Son of Mars likes to make creative tracks to give his fans a unique show and experience each time and this has played out in his favor so far.
"I like to see the fans' crazy and fun reactions when they hear something that I created that they never expected," says Son of Mars.
Mars currently holds a residency at West New York in New Jersey as well as residencies in Las Vegas, and Bankhead in Atlanta. He is saving the remaining schedule availability to travel and play venues and nightclubs across the USA, Canada, and Mexico as much as he can.
Son of Mars also recently announced an album called "Pandoras Box" which will feature Caribbean Hip-hop originals with collaborations from many well-known as well as up and coming artists. The album is expected to be released at the end of Summer 2022.
Son of Mars begins a new era with his soul-baring new single "Flip" – out Feb 2/28!
This is Son of Mars' first release since last December's "S.O.M EP" Son of Mars Joshua was also named on Thisis50 Top independent artist to look out for in 2022
Son of Mars opens up even more about his track "Flip", the most literal song of his drop. It is evident in the raw vulnerability of the track that Mars picked up lyrics and started singing from the heart; that's what makes this song so great. It was not till attending the University of Rochester in (2018) did he discover his passion for music. It was at the university where he was able to pursue musical production and further his interests in Greek mythology and entrepreneurship.
He once stated when he was younger his family members in Trinidad often remember him referring to himself as "Demi God" a trend that has stuck with him in the later years.
Yes, "Flip" is sure to stir the pot on social media with lines such as "Howling me the blues, at the moon yelling at the moon make her loony toon" This song reminds the audience further that the public has never and will never understand the full weight of his private life, regardless of how much digging is done. Listen for the drama if you please, yet this song seems to sound even better when you simply close your eyes and let it play.
Be sure to stay tuned as he continues to make headlines across the count.
Check out Son of Mars on social media: Facebook I Instagram I Twitter
© 2022, Bryson "Boom" Paul. All rights reserved.