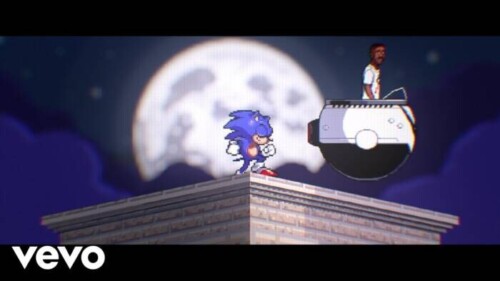 Audiences will get a chance to see Sonic The Hedgehog 2, the sequel to 2020's Sonic The Hedgehog, on Apr. 8. Among those starring will be James Marsden, Jim Carrey, Ben Schwartz, Colleen O'Shaughnessey, Idris Elba, as well as many others in both live action and voice roles. Kid Cudi debuted a brand-new track titled "Stars In The Sky" on the film's soundtrack today (March 25). The SplititupBenji, Take a Daytrip, and Dot Da Genius-produced track, a song on which the Cleveland sensation sings, "I'm having the time of my life":
In the accompanying video for "Stars In The Sky", Cudi is working on the track in the studio while Sonic sits behind him on the television. Upon receiving a message, Cudi poses for a picture with Dr. Robotnik's iconic Egg-O-Matic while flying above the city. Through some pretty cool nods to the actual video game, Cudi does his best to keep up with the fast-paced characters through various "real life" scenes and animation.
In the meantime, Cudi is thought to be working on his long-anticipated eighth studio album Entergalactic, a project he has addressed on social media over the last couple of years:
"ENTERGALACTIC is the stuff of dreams; it's the best I've ever done. I am so glad I had the opportunity to create this show. I can tell you it took three years for me to put it together."
© 2022, Jonathan P-Wright. All rights reserved.