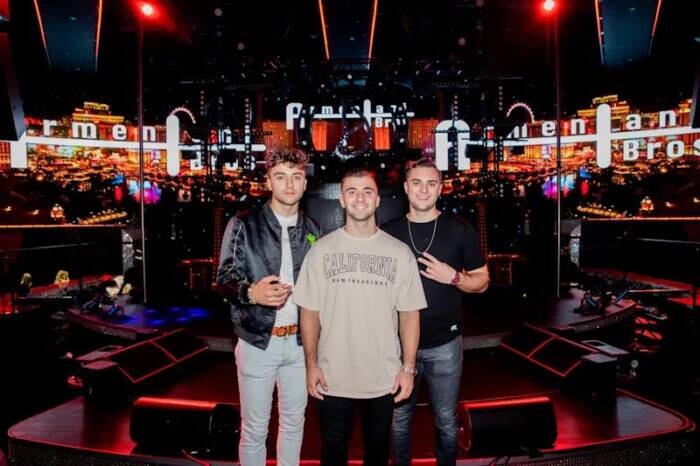 The Armentani Brothers are a trio of world-renowned DJs who have been spinning tracks and pleasing crowds for years. Hailing from the City of Brotherly Love, these three brothers know a thing or two about making music. Their musical journey started at a young age, when they began playing various instruments such as the piano, guitar, and drums. Since then, they have honed their skills to become one of the most in-demand DJ groups around. From festivals to clubs to private parties, the Armentani Brothers always bring the party wherever they go. So, if you're looking for a fun-filled night out, be sure to check out their next performance – you won't be disappointed!
It's been quite a year, to say the least. But through it all, the trio has still been delivering some of the most original music to ever come out of America. Now, they've got five original songs, numerous remixes, and mashups under their belts. And their top original song, "Next to You", has racked up close to 600,000 streams on Spotify alone. Not to mention the millions of streams it's gotten across all other streaming platforms. They're looking forward to releasing many more original tracks in the future and an EP in early 2023. So, if you're looking for something fresh and new to listen to, be sure to check out The Armentani Brothers. You won't be disappointed.
The Armentani Brothers have been on a roll lately. With 5 original songs, numerous remixes, and mashups under their belt, they are quickly gaining notoriety in the music world. If you haven't checked out their music yet, you're seriously missing out. Trust us, these guys are going places.
"When it comes to the music we create, we like to think outside the box. We don't want to be pigeon-holed into one genre or style, and we want our tracks to reflect that. We want to push the boundaries of what is considered "mainstream" and explore the myriad of sub-genres that make up electronic dance music. Whether it's hard dance, techno, house, or bass music, we're open to it all. And we hope that our music will take you on a journey through the different dimensions of dance music. Who knows, maybe you'll even discover a new favorite style along the way."
"Music has always been a passion of ours. Growing up, we would spend hours in our room practicing our instruments and perfecting our craft. Our dream was always to one day perform on stage in front of a large crowd. Now, as the Armentani Brothers, we are living our dream. We have already performed at some of the biggest music festivals in the world, and we have no intention of slowing down anytime soon. Our goal is to inspire others with our music and to show them that anything is possible if you set your mind to it. We may not be the biggest names in the EDM world yet, but we are well on our way to achieving our dreams. Thank you for supporting us on this journey."
Stream The Armentani Brothers` newest release on their official music platforms and follow on their official social media. Contact through email for interviews, reviews, and/or collaborations.
Social Media Links:
Instagram: https://www.instagram.com/thearmentanibros/
TikTok: https://www.tiktok.com/@armentanibros
Twitter: https://twitter.com/armentanibros
Facebook: https://m.facebook.com/ArmentaniBrothers
YouTube: https://www.youtube.com/channel/UCf-hxXPcf_VSn0nyvMD6njg
Streaming links:
Spotify: https://open.spotify.com/artist/1ifSYnQGu4FBmo7ZU5UBej?si=nMkWnlLBT-GyJZ2BB8d5NA
Apple Music: https://music.apple.com/us/artist/armentani-brothers/1526379188
© 2022, Brian Washington. All rights reserved.