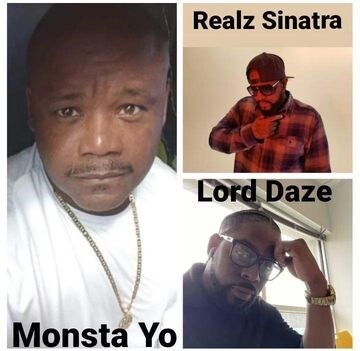 Monsta Yo, one of the craziest of all amongst mankind to walk the earth. Na, that's what y'all expect to hear when it comes to a man incarcerated for decades. Don't let the media fool you.
The truth is Monsta Yo, The unseen hand a Long Beach CA native who has been incarcerated since the age of 16, but some how has been able to move mountains in a positive way to help contribute the a culture that's shifting the world. Theirs so many titles and hats this man has worn over the years it would be an insult to just label him as one. One thing we can say is that every hat worn is properly adjusted to guild him in the positive lane.
Music and literature has been a direct focus for Monsta Yo which granted him so many opportunities to tap into the outside world from his prison cell. Consistently dropping music every time he get the chance, his talent and raw demeanor has caught the attention of fellow hiphop artist Realz Sinatra and Lord Daze. Let's go a little deeper.
Realz Sinatra, if you don't know is a east coast hiphop artist with deep rooted west coast ties sprinkled with a international track record. They say great minds think alike, but in this case, great minds move alike and that's exactly the move, greatness. Monsta Yo and Realz Sinatra partnered up to collaborate on several projects. During the course of numerous projects hitting the marketing back to back Realz Sinatra brought another entity to the table to make the road to success a little more entertaining. Long time friend and Conrad Lord Daze, a Bronx native with ties in magazine, media and he happened to also be a fellow MC. Lord Daze was called to pull up a seat to the table along with his Scrilla Guerillaz magazine brand.
Since the 3 have partnered up, they have established a brotherhood created to reach the people not only with their own projects but also giving new artist in the development faze opportunities to tap into the music industry amongst main artist. The formula they've create as a unit has proven to bridge the gap between the streets and the industry. Free Monsta Yo. The world is waiting on the unseen hand.
Follow Monsta Yo@ https://linktr.ee/Monsta_yo

Follow Realz Sinatra@ https://instagram.com/realzsinatra?igshid=YmMyMTA2M2Y

Follow Lord Daze@ WW.SGZMAG.COM

SGXTV https://twitter.com/sg_magazine SG Magzine premiers on VH1's Love and Hip Hop: Atlanta https://www.facebook.com/ScrillaGuerillazMagazine
© 2022, Leonard Magazine. All rights reserved.