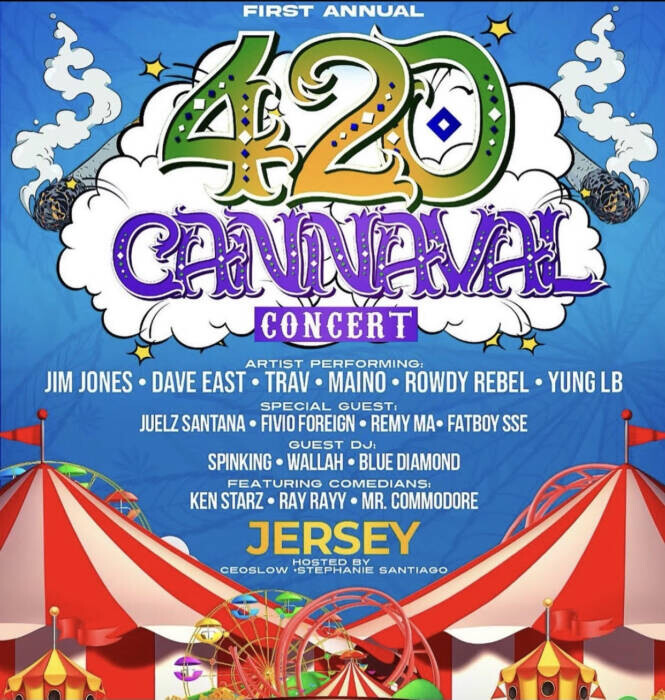 First Annual Couff Medicine X High Tolerance 4/20 Cannaval Concert. Featuring live performances, carnival games, and 4/20 themed prizes!
Live performances by:
– Jim Jones
– Dave East
– Trav
– Maino
– Rowdy Rebel
– Yung LB
Special Guests:
– Remy Ma
– Juelz Santana
– Fivio Foreign
And many more
Follow them here:
@creeplife_snagz  @hightoleranceusa @couffmedicine @jimjonescapo @daveeast @fivioforeign_8fs @rowdyrebel @fatboy @yunglb_litt  @remyma @travmbb @djspinking @remyma @djwallah @bluediamonddj @ceoslow @stephanie_santiago @theonlylexiblow2 @djself @og_nya.lee @mainohustlehard @thejuelzsantana @iamrayyyrayyy @kenstarrrz @mrcommodore @rackboy_cam @bandmanrill @kgoddessofficial @hightoleranceusa
##
WED APRIL 20TH
XL Night Life
323 N Broad St
Elizabeth, NJ  07208
United States
DOORS OPEN 4:20pm
© 2022, Seth Barmash. All rights reserved.