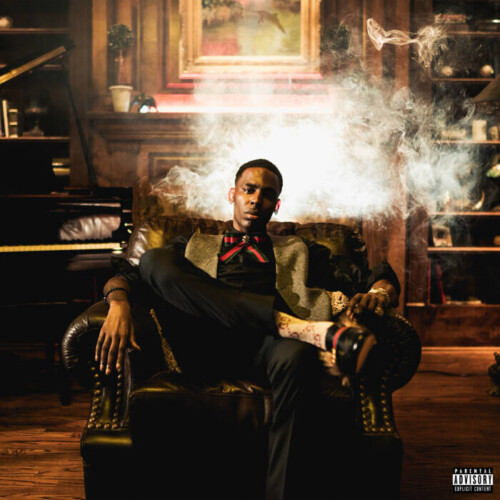 Young Dolph's boisterous lyricism helped him build a Paper Route Empire and change the face of hip-hop. On the newly-released song "Old Ways," released today by Dolph's estate and PRE, the artist displays the commanding delivery and precise punchlines that made him an icon. Steamrolling a sparkling beat from his frequent collaborator BandPlay, using a sample from "Darlin Darlin Baby" by The O'Jays, Dolph emphatically proves that the money he's made didn't change his dedication to the hustle or his taste in music: "She think that I'm still stuck in my old ways/God damn I love the trap, I miss the old days/Ride around in the Bonneville with my throwaway/Now I make millions, I might just listen to the O'Jays." Effortlessly quotable and impossibly hard, "Old Ways" is a sterling addition to Dolph's formidable discography.
"Old Ways" arrives alongside the newly-revealed tracklist Paper Route Frank, the upcoming posthumous album by Young Dolph. Spanning 13 tracks, Paper Route Frank drips with the same commanding charisma and booming Tennessee bass that define Dolph's impeccable catalog. The tape features production from frequent collaborators like Paper Route Empire's own Bandplay, Cleveland-born Sosa 808, and Memphis mainstay DJ Squeeky, plus Southern rap sound architects including Dun Deal and Drumma Boy, all of whom rise to the occasion with cinematic, speaker-knocking instrumentals that accentuate each outlandish boast. Paper Route Frank welcomes an expertly-curated list of guest stars, each of whom had a personal relationship with the rapper: Dolph's cousin and frequent rap partner Key Glock returns to spar, Glock's fellow PRE signees Big Moochie Grape and SNUPE BANDZ make an impression in their verses, Gucci Mane puts his stamp on "Roster," and 2 Chainz, one of the few in the game who could match Dolph punchline for punchline, makes his presence known on "Beep Beep."
Paper Route Frank arrives on the heels of the Adolph "Young Dolph" Thornton Jr. Day of Service on November 17th, officially ordained by the state legislatures of Georgia and Tennessee last December in honor of Dolph's memory. The IdaMae Foundation, in partnership with The Confess Project of America, will honor the legacy of Young Dolph by activating several public service events. Reported on by hundreds of outlets across the globe, #DolphDay furthered Dolph's charitable efforts and reaffirmed the beloved rapper's place in hip-hop history.
2022 was a cathartic and productive for Paper Route Empire, the label Dolph built from the ground up, as the label's artist spent the year going as hard as possible in Dolph's name. On Dolph Day, Dolph's cousin and PRE heavy-hitter Key Glock shared PRE5L, a ferocious EP that proves yet again that the future of the empire is in good hands. The year started with Paper Route Empire Presents: Long Live Dolph, a label compilation album that features touching tributes to Dolph from almost every artist on the label, from rising stars like Big Moochie Grape to relative newcomers like Paper Route Woo. The project is home to "Proud," a moving and defiant single from Key Glock, which earned over 4 million views in its first 3 days of release and garnered praise from The New York Times.
Stay tune for Paper Route Frank, coming this Friday, December 16th via Paper Route Empire.
© 2022, Seth "Digital Crates" Barmash. All rights reserved.