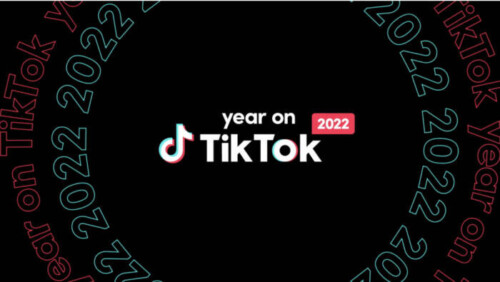 TikTok is the driving force behind the world's biggest cultural trends and movements, and music is at the heart of what makes TikTok special. As TikTok celebrates its Year On TikTok 2022, the game-changing platform shares an extension of the annual report, exploring the Year In Music on TikTok 2022. Please take a peek behind the curtain at the music that resonated with the TikTok community this year and how it impacted the charts and culture at large.
From breaking countless hit records and driving chart success to opening the door to emerging artists, TikTok continues to empower and support the next generation of superstar artists while breathing life into catalog classics. Artists use TikTok to build engagement, connect with their fans and find new ones, laying the foundations for future careers and creative success.
2022 saw a major rise in popularity for music created specifically for the platform, from sped-up remixes to open verse challenges to song-ified dialogue. TikTok didn't just amplify hits in 2022, it made them.
As the TikTok community grows and artists and creators find their fans, more opportunities emerge for every part of the music business. Whether independent or major-signed, creating, performing, or simply experimenting, TikTok is driving success and real-world impact for artists, both artistically and commercially in every market.
Paul Hourican, Global Head of Music Operations:
"This year, we've seen music from every genre and every market take off globally on TikTok.  Swedish rapper Yung Lean has our most popular song of the year, closely followed by the talented Nicky Youre & dazy. Kim Loaiza and Bad Bunny brought Latin music to the world and no one could have predicted the global rap phenomenon that was 'Jiggle Jiggle' by Duke & Jones and Louis Theroux. Our community embraces and engages with music like no other, putting its own spin on sounds and breathing new life into old hits. These dedicated music fans, the artists and music creators, and the sheer breadth and diversity of music are what we love about TikTok. I can't wait to see what's unearthed in 2023."
Ole Obermann, Global Head of Music:
"Reflecting on 2022, it's clear that artist success travels to our platforms, with 13 out of 14 Billboard Hot 100 number ones supported by viral trends on TikTok. Our platform continues to unlock real-world opportunities for artists and labels, with a brilliantly engaged community who love to build connections with artists and their music, and the impact of that is undeniable. Our teams are working globally with artists, managers, and labels to unleash the promotional and marketing power of TikTok – helping talent to secure record deals, brand collaborations, chart success, or be rediscovered decades later. A huge thanks to all our partners around the world for helping make TikTok for making TikTok what it is and here's to 2023."
Celebrating the artists, music creators, sounds, and songs on TikTok that made 2022 truly #ForYou.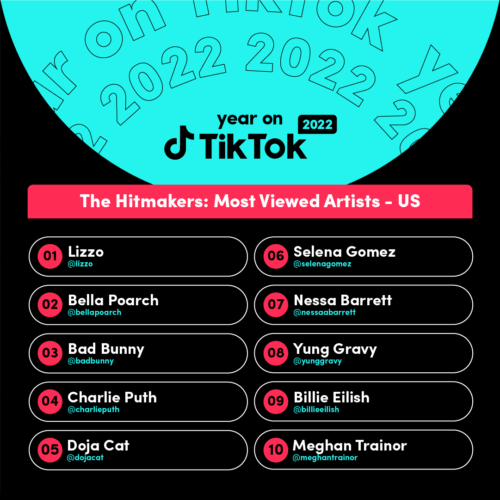 Latin artists take the crown: Kim Loaiza takes the crown for most viewed artist account globally and Bad Bunny enjoyed the biggest follower growth in 2022. In fact, globally, 5 of the 10 most viewed artist accounts and 5 of the 10 artist accounts to experience the biggest growth made Spanish-language music.
From the underground to the top of TikTok: Swedish rapper Yung Lean's 2013 track "Ginseng Strip 2002" is crowned the most used song on TikTok in 2022.
A shout out to SoundOn, TikTok's distribution platform for emerging talent: Nicky Youre had the second most popular song by video creations with "Sunroof" after he joined the SoundOn program. On the strength of the success of "Sunroof," Nicky Youre signed to Columbia Records this year. Brazilian SoundOn artist WZ Beat also saw global success with his smash hit "Beat Automotivo Tan Tan Tan Viral."
TikTok loves a remix: From a legendary TV interview about rap culture in the early noughties to a global phenomenon, Louis Theroux and Duke & Jones "Jiggle Jiggle" makes the global top ten for most creations.
Driving commercial success: In 2022, 13 out of the 14 Billboard Hot 100 number-one songs were driven by significant viral trends on TikTok, with 10 of the 12 Number Ones on the UK Official Singles Chart having a viral moment on TikTok too.
Going LIVE: We enjoyed tuning in to the biggest artists in the world across the year including Sam Smith, Camila Cabello, Lewis Capaldi, David Guetta and ABBA who chose TikTok to reach their fans as well as Rosalía who made history with a GRAMMY & Latin GRAMMY-nominated LIVE moment.
Speed Up, Slow Down: It's the year we got faster and slower, with these TikTok trends upending the traditional track. Demi Lovato's 2015 hit "Cool for the Summer" went viral with a "Sped Up (Nightcore)" remix via Speed Radio, Michael Bublé's 2003 song "Sway" was given a sped-up makeover which saw the track make a come back whereas Cat Burns' "go" was bolstered to chart success via a sped-up remix.
Hip-Hop's leading women make their mark: Women in rap carved out their own space on the platform, which helped launch artists like GloRilla, Ice Spice, and Dreya Mac to mainstream prominence in 2022
Soundtracks translated fandom into streaming success: TikTok is a hub for fandoms of all shapes and sizes, and they use music to organize their communities and share their love for their chosen media. Encanto led the way early in the year, as nearly every song on the soundtrack had a trending moment, especially "We Don't Talk About Bruno," which became the first number-one hit from an animated Disney film in three decades. Stranger Things provided moments for catalog songs, as Kate Bush's "Running Up The Hill (A Deal With God)" became one of the most-viewed songs on TikTok in 2022. Songs like Metallica's "Master Of Puppets" and Musical Youth's "Pass The Dutchie" also rode the wave.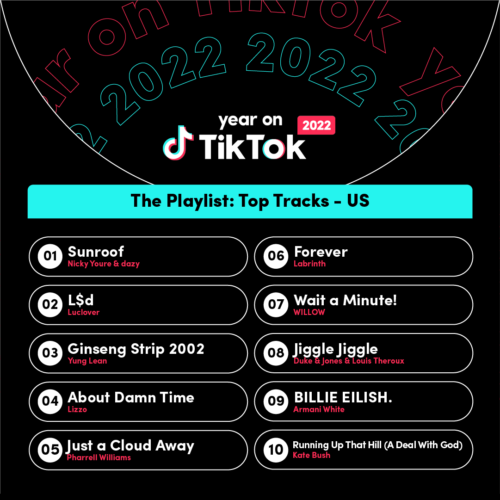 The US Playlist – Top US Tracks 2022
"Sunroof" – Nicky Youre & dazy – Hummable, breezy brilliance from a talented duo, originally released via SoundOn
"L$d" – Luclover – Luclover's flex-heavy hit had us all feeling ourselves
"Ginseng Strip 2002" – Yung Lean – Trends come and go, but Lean's melodies stuck with us all year
"About Damn Time" – Lizzo – The "Queen of TikTok" continues her reign
"Just A Cloud Away" – Pharrell – There were no clouds in the sky when this feather-light 2015 Pharrell hit trended this year
"Forever" – Labrinth – This TV-to-TikTok song helped inject some drama into our lives
"Wait a Minute!" – WILLOW – TikTok continues to catch WILLOW's vibe, as this 2015 song resurges
"Jiggle Jiggle" –  Duke & Jones & Louis Theroux – From the Chicken Shop to TikTok to the pop charts
"BILLIE EILISH" – Armani White – This N.O.R.E.-sampling smash helped Armani White earn his first Hot 100 hit and a Def Jam deal
"Running Up That Hill (A Deal With God) – Kate Bush – TikTok played a crucial role in elevating this 1985 classic from Stranger Things to the Hot 100
The Hitmakers – Most Viewed Artists (US)
The Risers – Artists with Most New Followers (US)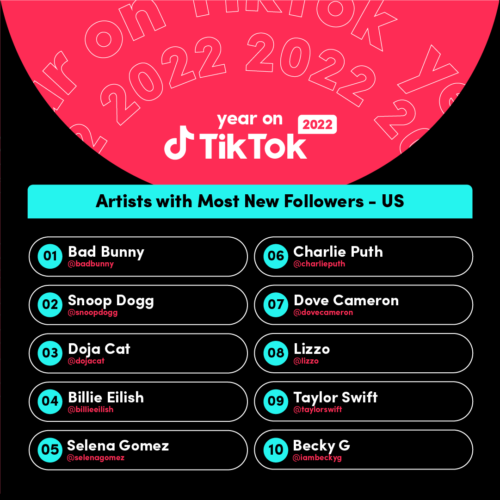 2022 US Emerging Artists:
TikTok remains the top destination for music discovery for fans of all genres. Creators on the app fell in love with new favorites like Ice Spice, JVKE, Latto and more, pushing their songs off the platform and onto the charts! The incredible momentum driven by fans on TikTok even reached the Grammy Awards, with trending tracks from Muni Long, Steve Lacy, Omar Apollo, and GloRilla receiving Grammy nominations. TikTok's emerging artists for 2022 are a diverse and accomplished group that will make meaningful music for a long time to come.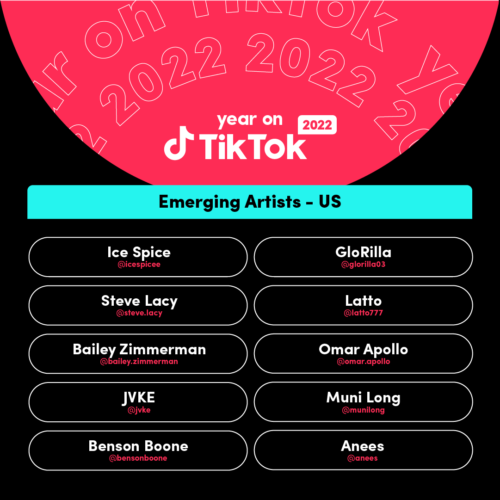 The Global Playlist – Top Tracks 2022
Yung Lean – "Ginseng Strip 2002" – Trends come and go, but Lean's melodies stuck with us all year
Nicky Youre & dazy – "Sunroof" – Hummable, breezy brilliance from a talented duo, originally released via SoundOn
WILLOW – "WAIT A MINUTE!" – TikTok continues to feel WILLOW's vibe, as this 2015 song resurges
WZ Beat – "Beat Automotivo Tan Tan Tan Viral" – Baile funk meets background music for this self-fulfilling prophecy
Demi Lovato – "Cool for the Summer" – It was a sped-up summer on TikTok
Duke & Jones & Louis Theroux – "Jiggle Jiggle" – From the Chicken Shop to TikTok to the pop charts
Bad Bunny & Chencho Corleone – "Me Porto Bonito" – The biggest of El Conejo's many trending songs in 2022
Lizzo – "About Damn Time" – The "Queen of TikTok" continues her reign
Luclover – "L$d" – Luclover's flex-heavy hit had us all feeling ourselves
Cris Mj – "Una Noche En Medellín" – The biggest hit in a big year for regional Latin music on TikTok
The Global Hitmakers – Most Viewed Artists
The Global Risers – Artists with Most New Followers
Karol G – The Colombian reggaetonera dominated the digital airwaves with hits like "GATÚBELA," "PROVENZA" and "MAMIIII"
Snoop Dogg –  Rap legend and Martha Stewart's BFF fully embraced TikTok in 2022
Billie Eilish – Billie wowed her followers with a duet performance of "Listen Before I Go" and entertained fans with her sardonic sense of humor
Shakira – The Queen of Colombian Pop gave fans on Tiktok behind-the-scenes glimpses of music videos and studio sessions
BTS – Seoul's (and the world's) biggest pop group recruited even more members into The Army after heavily leaning into the platform this year
BLACKPINK –  The Blinks completed their TikTok takeover in 2022, helping BLACKPINK score a #1 album on the Billboard 200
TikTok is the world's go-to platform for music discovery and a launching pad for smash hits by artists of all genres and levels of fame. Empowering its community of creators and music fans, the platform supercharges the discovery process, introducing fans to their new favorite songs and allowing artists to directly engage with listeners. TikTok starts trends that reverberate throughout the culture, the industry, and the charts.
As we wrap up yet another memorable year on TikTok, keep an eye out for some special year-end treats within the app. Rolling out over the coming weeks, people will soon have access to new editing tools, including a Santa text-to-speech voice, festive text-to-song options, and other holiday surprises.
Want to learn more about what made 2022 a year that's truly #ForYou? Discover this year's unforgettable trends, creators and moments by searching #YearOnTikTok in app.
Join the global community on TikTok by simply downloading the app for free via the Apple App Store, Google Play or Amazon.
© 2022, Seth "Digital Crates" Barmash. All rights reserved.