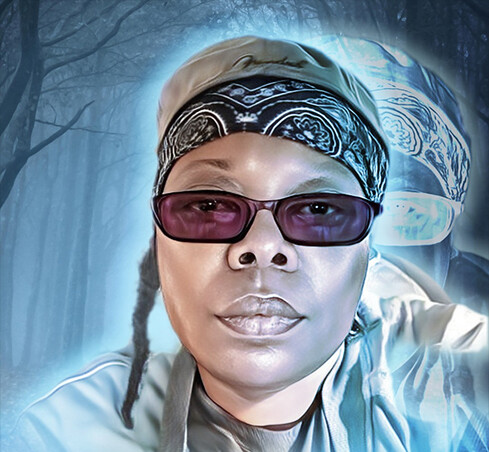 It's noir in a time of October!  NoirCon 2022 is back on the block with the noir worth its weight being featured prime time and on the line.  Besides the best thing about this year's conference is NoirCon's return to form after a long absence, is the featuring of Ghosts On The Block Never Sleep Chicago author Tia Ja'nae taking center stage.
I'm personally looking forward to NoirCon 2022 just to hear a more in depth discussion and analysis about the novel from the author in her own words.
From the first page to the last I couldn't stop reading it.  It's the most addictive thing to hit America since the crack epidemic took over in the 1980s.  The pages burn in a virtual crack pipe as the reader inhales every bit that it gives.  It's frightening, believable, and anything but glamorous but readers will get their crime fiction thirst filled in more ways than they bargained for while loving every sinful minute of it.
The belly of the beast is where Tia Ja'nae is going to leave you from page one.  You start in a pit on a cold day in Chicago hell, at work waiting to get on with the task of making money alongside our main character and her associates.  Everyone is forced to wait for the street markets to open up until the foreign fence punishes a work acquaintance in an act not seen since Kunte Kinte was whipped for not knowing his name in 'Roots'.  There's no mistake that Chicago is the killing floor, and doesn't care who steps into its available spaces.
Tia Ja'nae tell you from the eyes of a female butcher turned chop shop independent contractor that life in Chicago is more than tourist attractions.  Racism is rampant.  Sexism is commonplace.  Discrimination is normalized.  Those who can take all they can and those who can't or won't work their fingers to the bones for chump change.  All of those factors are the least of the female butcher's worries from the first page in the novel, especially dealing with a predominately male underground population and the foreigners that have taken over and run the criminal enterprises in the black neighborhood.
Those who can step.  Those who can't get stepped on.  With such distractions she has one thing on her mind – leaving her petty street activities behind her and returning back to her former career as fast as she can.  Her determination and resolve give her the courage to take calculated risks for minimum reward.  That works for her for awhile until good help becomes harder and harder to find in the chop shop business.  From there its wits, guts, and smarts to make a move, make a bag, and be out.  Tia Ja'nae illustrates why plans like that sound good in theory but fail miserably in practical application.
This is a hardcore, no holds barred novel that engrosses you like nothing has ever engrossed you before.  The real life situations that we all have felt with employment insecurity creates a world of unpredictable elements of the main character that we all can sympathize with.  Tia Ja'nae draws us in with a magnifying glass to the political talking points we only hear on the news during an election year while shining a light on the realities of the people at the mercy of those that rule over them.  From the bottom of the pudding cup to the top of the heap, no one is the master of their fate nor the captain of their soul once the streets of Chicago are done with you.
From this point on I was not prepared for anything that happened to anyone all the way up to the conclusion of Ghosts On The Block Never Sleep.  Tia Ja'nae's first person narrative driven style works in keeping the story personal, intimate, and rooting for the main character who is only concerned with getting enough money to get out the life and get back to her chosen legitimate profession.  The stakes are high and the people paying the money aren't willing to lose good earners.  Every decision is a dog eat dog affair for everyone involved to stay one step ahead.  The reality is that they are two steps back and don't even know it.
Near the conclusion of Ghosts On The Block Never Sleep everyone winds up in the same place at the same time with the same blood on their hands.  Perhaps those with a conscience will feel guilty and get out of the life.  You question yourself for standing idly by and not warning the characters that things could be different and have a more pleasant outcome.  Then hopelessness sets in because you realizes Chicago produces nothing but winners and losers, taking bets on both.
This book is a must have if you can find it.  It is an absolute literary masterpiece and NoirCon 2022 is lucky to have Tia Ja'nae discuss it in depth for the first time in person.  According to their website, NoirCon returns after a four year absence with a virtual conference, to be held from Friday, October 21, 2022 through Sunday, October 23, 2022. The three-day symposium celebrates noir in all its artistic incarnations with live and pre-recorded events, including panel discussions, award ceremonies, author talks, art exhibitions, movie screenings, and more.
© 2022, AMMPRO. All rights reserved.