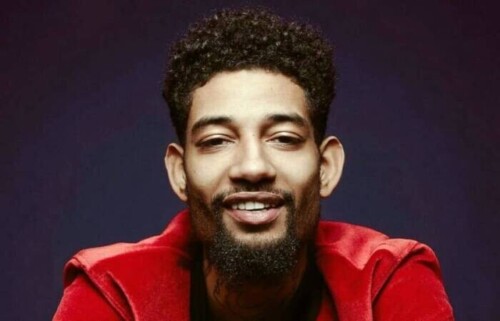 This week we mourn the loss of the amazingly talented PNB Rock. The PNB movement started in Philadelphia and became a global phenomenon. This happened when the sound of Hip-Hop and rap music was crossed over to include more melodic and R&B sounds. PNB Rock was at the forefront of this musical movement crafting songs and melodies that had crossover radio appeal with street sounds. His music had a range of emotions and topics with a signature vocal style. He became most known for his unique vocal sound and deep autobiographical as well as story-telling type lyrics. As he was developing his sound he dropped the anthem "My City Needs Something" which became a rallying cry against senseless violence.
His music began to incorporate even more modern R&B elements as he dropped a string of hit songs including the anthem "Selfish". His music touched the lives of many fans around the world as his fanbase grew he signed a major record deal helping him to reach even more fans of his work.
PNB Rock was a friend to HipHopSince1987.com with a bunch of exclusive content that showcased his hard work and dedication to his career. This content includes interviews, performances, and behind-the-scenes looks at recording studio sessions. He collaborated with many talented artists and creatives from independent Philadelphia talent to worldwide superstars. In the interview below he breaks down his origin story and how he became a rising star representing the intersection of Pastorius and Baynton in Philadelphia.
He was known for his incredible recordings but his live performances made him a legend. In the video below he performs his anthems "Too Many Years" and "New Day". You can hear the crowd going crazy and rapping his lyrics line by line with Rock giving a powerful performance.
After winning over fans worldwide he began his own headlining tours in support of his "GTTM" project. His albums showed his dynamic range as a prolific songwriter and performer. In the videos below you can see him performing his hit song "Selfish" as well as the anthems "There She Go" and "Everyday we Lit".
PNB Rock was a masterful collaborator with his most notable features with fellow Philadelphia artists from the "Dream Chasers" camp including Meek Mill and Omelly. In the videos below you can see in-studio and live performances of some of his most notable collaborations.
Even though we are mourning the loss of this great talent we are blessed to have seen his rise from humble beginnings to worldwide stardom. PNB Rock remained humble through it all starting a musical movement that will live on forever. He leaves behind a deep discography of incredible music showing that as an artist, songwriter, and performer he was well ahead of his time.
Rakim Hasheem Allen (December 9, 1991 – September 12, 2022), better known by his stage name PnB Rock, was an American rapper, singer, and songwriter from Philadelphia, Pennsylvania. He was best known for his single "Selfish" (2016), which peaked at number 51 on the US Billboard Hot 100, as well as his feature on the song "Cross Me" by Ed Sheeran, alongside Chance the Rapper. He also provided uncredited vocals on XXXTentacion's hit single "Changes", which reached the top 20 on the same chart.
He released two studio albums, Catch These Vibes (2017) and TrapStar Turnt PopStar (2019), the latter of which peaked within the top five on the Billboard 200 chart. PNB Rock was chosen as part of the 2017 XXL Freshman Class.
© 2022, Seth "Digital Crates" Barmash. All rights reserved.