Prepare for blast off as the Rare Vandal & DJ Lethal Skillz team up yetagain for another NFT-inspired anthem that's guaranteed to take your breath away!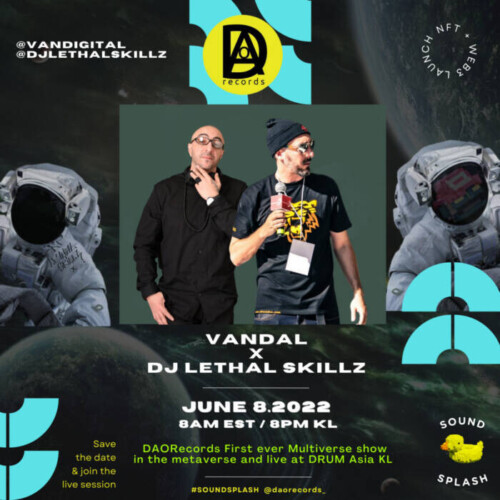 Dynamic Duo
It's been about a decade since Vandal and DJ Lethal Skillz started seriously collaborating. Running The Crib Show, an Online radio show from the AFO Radio studio in Kuala Lumpur they turned out a staggering 202 shows and solidified their partnershipin music and beyond.
Since the two of them dove head firstinto the Blockchain space in 2017 they collaborated on a number of Crypto themed anthems including the classic "Hip Hop The Blockchain" in 2018.
Not mention the work they've put in in the Music3 space! Skillz is currentlya core team member of Emanate and of course Vandal reps the VanDAO and DAOrecords!
Fast forward to 2022
With the speed in which the Web3 space moves, patience is a virtue, and having persevered through a lengthy crypto winter the two continued to build and create ultimately leading up to their latest collaboration of which is now on display right here in Week Five of our SoundSplash series!
As we do each week, Splash Passes are available up until 2 hours before the drop and give you access to the earliest Generation NFTs for only 5 $NEAR.

Community Partner: NEARNauts
A perfect partnership this week! Considering the song is all about it bout it!
"NEARNauts is a truly community driven, randomly generated NFT PFP project powered by the NEAR Network. NEARNauts aims to pioneer the NFT space on NEAR, by growing a completely organic, loyal community around the project. By entering the NEARNauts family, you are climbing aboard what aims to be the most sought after, rewarding clubin the NEAR Ecosystem."
Visit their website to learn more!

Experience The Drop
We got something special for this edition of SoundSplash as we take the Metaverse into the physical with a LIVE performance and experience! If you're not able to make it to the physical event in Kuala Lumpur at Drum Asia Live you can still jump intoour virtual spaces and catch all the action!
Got an ETH wallet? Head to the DAOrecords HQ inside Cryptovoxels to experience the drop LIVE! Got a NEAR wallet? Join us in RealityChain's 2DVerse, where the mobile experience is the perfect solution!

© 2022, ADAM 4 Artists. All rights reserved.