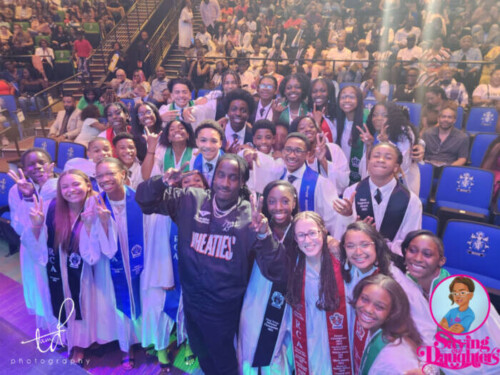 On Sunday, June 4th, K Camp took the stage as part of the Oprah's 2023 Ron Clark Academy Graduation Ceremony. K Camp performed his hit single "Lottery," which is also one of the school's theme songs, and was accompanied by the academy's performing arts dance students.
The Oprah 2023 Ron Clark Academy celebrates its graduation ceremony in the new state-of-the-art Performance Center donated by Ms. Oprah Winfrey. K Camp joined in the celebration and performed with the dance team, while also giving an inspiring speech to the graduating students.
RCA was thrilled to have K Camp join them at this year's graduation ceremony. His top-charting song "Lottery" has become a staple at the school, and his inspiring speech was the perfect way to send off the graduating class with positive messages about their future.
K Camp's single "Lottery" has become a national anthem for young people across the country. The song serves as a source of hope and motivation that anything is possible, and that determination and hard work can take you to places you never imagined.
"I was so honored to be asked to be part of this ceremony," said K Camp. "I know how hard the students have worked and it was great to be able to celebrate their success and give them words of encouragement."
Photos courtesy of Tam D Photography. 
© 2023, Seth "Digital Crates" Barmash. All rights reserved.