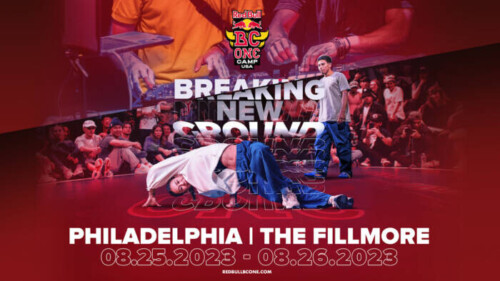 Red Bull BC One, the world's largest global breaking competition, is thrilled to announce its highly anticipated 2023 U.S. Season. From May to August, the premier 1 vs. 1 competition will see the best breakers across the country vie for the chance to represent the U.S. in the Red Bull BC One World Final in Paris, France in October 2023. 
The 2023 season will feature regional qualifiers, known as "Regional Cyphers," held in three iconic American cities: Orlando (June 17), Minneapolis (July 29), and New York City (August 12).  The competitor line-up for each regional stop will be a combination of invited contestants (wildcards) and winners of city competitions, which are open to all breakers and take place in Columbus, Atlanta, Los Angeles, Seattle, Honolulu, Denver, and Boston. The journey culminates at the Red Bull BC One National Final, taking place in Philadelphia. 
At each Regional Cypher, sixteen "B-Boys" and eight "B-Girls" will battle their way through a cutthroat 1v1 knockout bracket, as a panel of esteemed breakers determines the regional champions who advance to the Red Bull BC One National Final in Philadelphia. 
The season celebrates breaking's soaring popularity worldwide and its remarkable growth since its emergence from the roots of hip-hop culture. It is a tribute to the local communities and visionary breakers who, through their seamless fusion of artistry and athleticism, have propelled the urban sport into a new era of mainstream recognition. Since 2004, Red Bull has connected and nurtured break communities around the world, resulting in Red Bull BC One developing into a highly respected breaking mainstay.
"For those who are curious about breaking, Red Bull BC One is arguably the best arena to learn about the sport and culture of the dance. Even for those who are new to break, it's easy to get drawn into the sport's infectious energy," shares breaking veteran and Red Bull BC One All Star, Ronnie Abaldonado. "Every year, I'm blown away by up-and-coming breakers who showcase unmatched athleticism and unbreakable spirits. And it gives me great pride to pass the torch down to the next-gen B-Boys and B-Girls carrying on breaking's legacy."
Red Bull BC One Camp USA will take place in Philadelphia on Friday, August 25 – Saturday, August 26, offering a weekend of workshops and panels led by world-renowned breakers before concluding with the Red Bull BC One Philadelphia National Final. There, sixteen of the nation's best B-Boys and B-Girls, both regional champions and wildcards, will battle for a coveted spot at the historic 20th Red Bull BC One World Final, set to be held in Paris on October 21st. 
To commemorate the competition's return and the upcoming National Final in Philadelphia, Red Bull BC One organized a kick-off event at Silk City Philly in collaboration with Second Sundae, a celebration of house music and cultural hub of Philadelphia's thriving dance scene. The pop-up cypher showcased 1×1 battles, with esteemed judges and breaking legends Flea Rock and Red Bull BC One All Star RoxRite, with beats by DJ Fleg. 
With over two decades of cyphers, workshops, programming, and World Finals held in over thirty countries, Red Bull has cemented its legacy within the break space. 
RED BULL BC ONE U.S. SCHEDULE
Southeast Cypher [Orlando, FL]: Saturday, June 17, Full Sail Live

Midwest Cypher [Minneapolis, MI]: Saturday, July 29, First Avenue

East Cypher [New York, NY]: Saturday, August 12, Jazz at Lincoln Center

Red Bull BC One Camp and National Final in Philadelphia: August 25 – 26

National Final [Philadelphia, PA]: Saturday, August 26, The Fillmore Philadelphia

World Final [Paris, France]: October 21, Roland Garros
The Red Bull BC One National Final will be available to watch live on the Red Bull BC One YouTube and Facebook channels on August 26. For more information about individual cyphers, exhibitions, workshops, and tickets, check out the Red Bull BC One Camp USA website, and be sure to follow @RedBullBCOne on Instagram, Facebook, Youtube, and Twitter.
© 2023, Seth "Digital Crates" Barmash. All rights reserved.