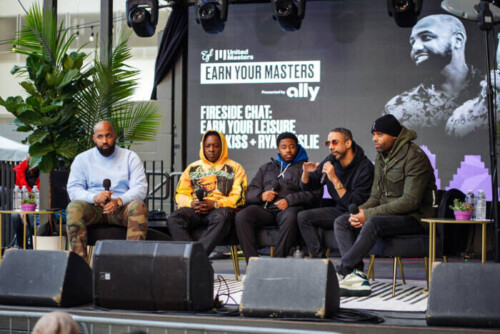 Photo by Brandon Cornelius
UnitedMasters, Ally, and Earn Your Leisure came together to create the Earn Your Masters (EYM) for SXSW (South By Southwest) in Austin, Texas on March 17th. The event fueled financial literacy in educating the next generation of creators and people who are traditionally underserved by financial institutions. To activate this mission, UnitedMasters and Earn Your Leisure provided a unique experience for attendees combining education, music, and entertainment. EYM was a content and pop-up experience that focused on art, finance, and the opportunities they created for young musicians and creators.
Spokespersons of the event included: Rashad Bilal, Co-Founder of Earn Your Leisure, Troy Millings, Co-Founder of Earn Your Leisure, Erica Hughes, Multicultural Marketing Director at Ally, and Chaucer Barnes, Chief Marketing Officer at UnitedMasters, Inc. The talent included special guest, Jadakiss and Ryan Leslie; along with emerging acts: Liana Banks, $hyfromdrate, BigXthaPlug, and open call winner, Kalyan Arnold! The daytime programming went from 2pm to 5:50pm which gave guests access to free group mentoring sessions from industry experts on the most important topics for artists, creatives, and entrepreneurs in art and music that lead to the nighttime performances that started at 6:30pm until 10pm. The day before this all-day conference and show, Intuit presented "The Break Through" featuring LaRussell. This added an intimate mixer with the media and LaRussell from 5-6pm on Thursday, March 16th.
© 2023, Seth "Digital Crates" Barmash. All rights reserved.