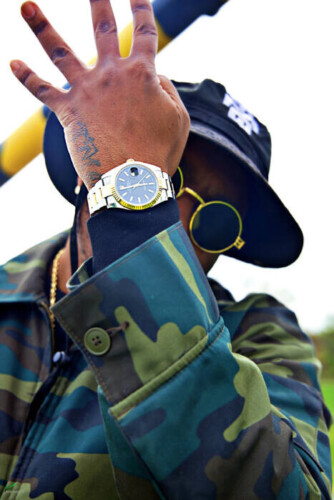 Ace General's marketing company has been picking up a lot of steam lately and has been paired with some of the hottest independent artist from MIA to NY. Their latest pick up is just as remarkable as the rest of the talent on the roster. You know the saying, what doesn't kill you makes you stronger! The New York stationed hip hop recording artist known as DomTMO AKA Young Dom could use that phrase as his official slogan as he's walked away from disheartening as well as tragic experiences only to come out on the other end triumphant and much stronger than before.
One of the two career altering occurrences that pushed the young vocalist to strive for greatness happened after joining the rap group Money Team, a band of local lyricists that Dom ran with during his high school years. In the group Young Dom was referred to as "the weakest link" by tastemakers and critics alike after the release of their debut mixtape. Devastated by the response, Young Dom processed the information, took it in stride and used it as fuel for his internal fire to become a much better artist and performer!
The other life changing event that sparked a new found motivation in the emcee was surviving a critical motorcycle incident that left him hospitalized for 6 months. During his road to recovery, Dom struggled with thoughts of continuing his music career, but after his body healed and his health improved, Dom realized that he's definitely here for a reason and to create more excellent music for his growing fanbase.
Throughout the years Dom released a well-received mixtape series titled Live Young Die Rich, which garnered thousands of listens worldwide virtually and through several viable internet platforms. The 3rd installment in the series led to sparking the attention of veteran New York rapper and 50 Cent associate Lloyd Banks. Lloyd Banks' interest in the artist brought upon the opportunity to open up Banks during his performance at The Sony Music Hall in NY for their fifteen year anniversary. Young Dom has put out back to back "bangers" during the Covid19 pandemic from the singles "Zone" featuring GP45 out of Texas and "Top Of the Food Chain" featuring JuTheKing & Now " Master P " Which is catching attention from the visual out now !
What doesn't kill you, certainly makes you stronger, and surviving is one of the reasons why DomTMO has some of the "strongest" music out right now!
© 2023, Seth "Digital Crates" Barmash. All rights reserved.