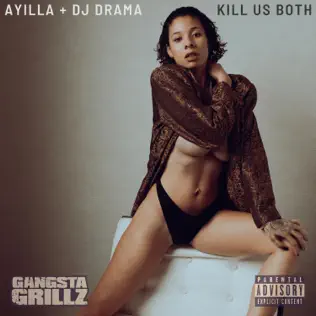 DJ Drama is known for discovering and working with legendary new talent. His resume speaks for itself. So when he announced a new mixtape with artist Ayilla we expected nothing but the best. Ayilla is a versatile artist with a unique sound. The music that they have put together is a breath of fresh air. Their Gangsta Grillz project "Kill Us Both" is a fantastic introduction to this new artist and sound. The album kicks off with "Drama Spell" a perfect introduction to the ten-song project. The title track "Kill Us Both" is an emotional anthem that truly displays the essence of Ayilla's drippy vocal stylings. The next few songs on the project have bouncy rhythms mixed with catchy vocal melodies.
"Aint Easy" is a standout track on the album showcasing a mix of Hip-Hop and R&B with Ayilla effortlessly flowing over the production. "Whiskey" and "Breathe for Me" are low-key hit songs that round out this special debut project from Ayilla and DJ Drama. The album is rounded out with the Afrobeats-inspired "Stand Still" which has an anthemic sound.
Stream the project below and make sure to follow Ayilla on Instagram! Stay tuned to HipHopSince1987.com for more work soon from both Ayilla and DJ Drama!
© 2023, Seth "Digital Crates" Barmash. All rights reserved.