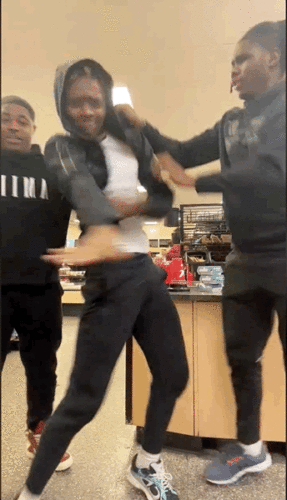 TikTok shines a spotlight on regional scenes, taking trends that otherwise might've stayed in their local bubble and amplifying them for mass appreciation. Perhaps no local scene has benefitted from a TikTok bump as much as Jersey club, the uptempo dance genre animating the Eastern seaboard from Philly to the Bronx.
Perhaps the first true Jersey club hit to reach TikTok prominence was "Vibe (If I Back It Up)," a bite-sized banger by Newark artist Cookiee Kawaii. First bubbling up in 2019, in TikTok's early days as a tastemaker, the song has nearly a million video creations, including a famous one from a dancing duck that earned over 20 million views.
Since then, the genre has been a reliable generator of TikTok hits. In 2022, local artists in Newark and Philadelphia made their mark, including dancer-turned-rapper 2Rare, who struck gold with "Cupid," which earned remixes by Lil Durk and Newark producer DJ Smallz (591k videos), and appeared in a music video with Drake. Philly's Lay Bankz helped introduce the world to a regional dance style, the "blick," with her song "Left Cheek (Doo Doo Blick)," which generated over 540k video creations behind a viral dance trend. By the end of the year, mainstream stars like Lil Uzi Vert were tapping in–his "Just Wanna Rock" (over 1 million videos), produced in part by Newark producer Mcvertt, experienced a TikTok-fueled rise that culminated in a top ten spot on the Billboard Hot 100.
This year, it feels like there's a new trending Jersey/Philly club hit every week. 2Rare returned for more, with his hit "Rare's Room" racking up over 545k video creations, including clips from Rare himself at a local Philly gym. DaBaby jumped on a club beat for his recent single "Shake Sumn" (over 340k video creations), which was the top trending song on TikTok for two weeks in May. Most recently, Philadelphia rap collective the Philly Goats scored top trending hit on their hands, with "Get Off The Wall." The high-octane banger has over 1 million video creations, behind a partner dance trend attempted by mother-son duos, prom attendees, and more. The Philly Goats are having fun with the song as well, with group member D Sturdy energetically hitting the trend in his neighborhood WaWa. After months of trending on TikTok, the song finally received official release in early June, racking up over 1 million streams across platforms in its short time out.
Whether the music comes from Northern Mexico, the mid-Atlantic U.S., South Africa, or Brazil, TikTok allows local scenes to thrive while exposing their sounds to the world at large. Nobody knows what corner of the world the next trend will come from, but one thing is for sure–it will start on TikTok.
© 2023, Seth "Digital Crates" Barmash. All rights reserved.