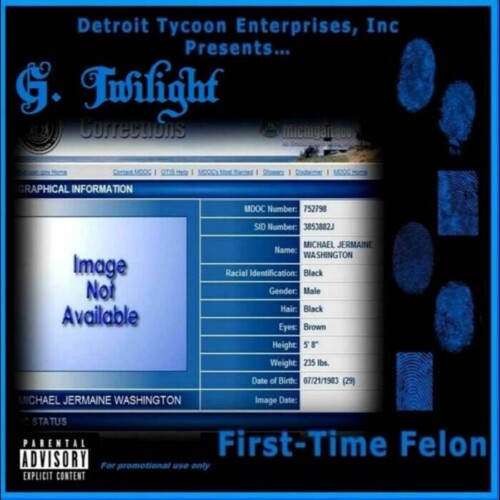 "First-Time Felon", released in late 2012, is the 2nd official mixtape by Detroit rap sensation, G. Twilight. Featuring production from Johnny Juliano, TrapLife Muzik, White Hot Productions, J-Rum, Bravestarr Beats, I.D. Labs, DrizDaKid, CaSino MuZik, Mr. K.A. Beats, and Beats Planet, this was a very special tape for us here at HipHopSince1987. The rapper is very long-winded, but songs with a storyline are his forte. G. Twilight unravels his pedigree as what has become known as an "American Descendant of Slavery" or "ADOS" and reflects on his previous lifestyle, questioning his past choices. It was here on this tape that 'G.' focused more on his day-to-day life as a mid-level street dealer as well as his failed attempt to transition from the dope game into the pimp game. This is also the tape that he first begins to grossly disrespect his contemporaries on wax. In hindsight, after having a conversation with the rapper and knowing the man he has become, I'm almost certain that he would've done things a little bit differently now than back then. However, at the time of these recordings, he really wanted to publicly humiliate certain individuals. He taunts his former enemies and dares them to come get him. When we asked him about this he said "It was no big deal to me at the time, because I'd already challenged them face-to-face while intimidating them with my physical presence. I'm not really completely sure what was up with me at the time. I'd decided to stop running the streets and get my life together, however, I may have had some suicidal inclinations deep within my subconscious without being fully aware of it myself. I wasn't inherently criminal, but the thing about that life is it all happened so fast and I got carried away. I jumped off the porch late and didn't have a long rap sheet like many of friends, but getting caught may have been the wakeup call that I needed." The song "November 5th", "When The Morning Comes" and the cover to Gucci Mane's "Bricks" were the core for this mixtape, all other songs were just fillers in my opinion.
"November 5th" delves deep into the unforgiving world of drug dealing. In the song's introduction, Twilight warns junior members in the drug trade about dealing with White clientele by saying "Just because they don't call you the "N-word" to your face.. don't mean the motha fuckas ain't thinking it". To our surprise, that line is followed up with the smooth vocals of legendary Detroit hip-hop DJ/engineer "Mo Master" of Mo Master Production as he croons the lines "Oouuh, you thought the game was glamorous and gold.. but found out it was scandalous and cold" on the hook and sets the tone by cautioning listeners about the harsh lessons to be learned in the drug trade. Specifically referencing "November" as a symbol of pivotal events in the protagonist's life. I really like how the chorus embodies the song's overall theme, emphasizing how many feel trapped and the hopelessness that pervades the predicament and often end up ensnared by the criminal justice system. This is a depiction of experiences by individuals who are disenfranchised by the American social order.
In the first verse, G. Twilight brags and boasts about his status as a seasoned "O.G." in the drug scene by emphasizing his refusal to cooperate with law enforcement. He reveals a betrayal by his prostitutes, who abandoned him during tough times, forcing him to return to the drug trade, his only familiar path. His goal is to achieve success target market of affluent White customers.
The second verse focuses on an encounter with a white customer introduced to him by his connect. Initially fooled by the man appearing clean and trustworthy, the connect reveals to 'G.' that this is a a crack addict and potential customer. 'G.' begins to interactions with him on a consistent basis a while the "custo's" increasing the demand for drugs, leads to trouble as the police set up a sting operation.
In the third verse, Twilight finds himself behind bars, reflecting on his fear of disappointing his mother and realizing that White drug addicts, despite their profitability, can and will play their ultimate trump card within the confines of White supremacy by caving under police pressure and become informants against Black dealers. The song ends with a reference to Judge James Brady of 47th District Court in Farmington Hills, Michigan, the judge who presided over the his arraignment (the rapper also mentions Judge Denise Langford-Morris on the song "I Can Remember").
In essence, "November 5th" embodies the mixtape's title and exposes the harsh realities of the drug trade, deceitful individuals, and the consequences that ultimately result in the incarceration of many who decide to play the game. The lyrics deliver a cautionary message about the perils of greed and misplaced trust while detailing non-fiction money-making endeavors and reveals how the rapper fell into a trap orchestrated by law enforcement. Ironically, the song "When The Morning Comes" was the exact same story except with more hard-hitting detail about what lead up to the events in question. "First-Time Felon" is a talking, feeling and breathing embodiment of the experiences of many who are Black, male and fatherless in the United States. This is definitely a project worth listening to.
— Listen to "First-Time Felon" on Audius Project and earn free crypto —
https://audius.co/embed/album/QbNEM7w
© 2023, Tedfuel. All rights reserved.