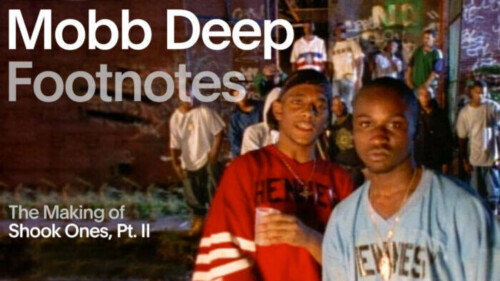 Mobb Deep producer and rapper Havoc takes fans behind the scenes of their official music video for rap classic "Shook Ones, Pt. II" from their album The Infamous in the latest installment of Vevo Footnotes, premiering today. The exclusive content is part of Vevo's celebration to honor the historic 50th Anniversary of Hip-Hop.

During the episode, Havoc describes creating "Shook Ones, Pt. II" inside the apartment of his childhood home in Queensbridge. He notes the pressure Mobb Deep had to make a hit after releasing a failed album the previous year. He recalls that the song gained a lot of traction and everyone in their crew was excited to shoot the music video in their neighborhood. However, during the shoot, Havoc got into a fight with someone from his block who was upset about not getting enough shine in the video, and discusses almost being electrocuted. He also reveals his favorite scene when they are wearing the Hennessy jerseys that Prodigy got made. He explains that they filmed in Queensbridge to give the visual a grimey and authentic feel and that if he was able to reshoot the music video in 2023, he wouldn't change a thing. 
© 2023, Seth "Digital Crates" Barmash. All rights reserved.