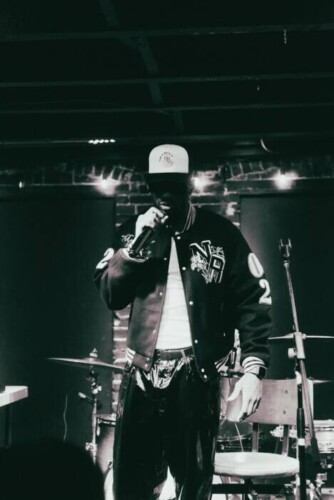 Hueso, a Canadian rapper, singer, and songwriter, is a rising star in the music industry. He is perfectly tied in with the age of melodies and lyricism, bringing a modern twist to the trap rap genre. Hueso hit the scene in 2020-2021 with his debut mixtape "Legacy," which quickly gained popularity and success.
Hueso's music is best-described as a unique blend of smooth vocals, lyricism, upbeat sounds, and distinct instruments. His strong, resonant sound often stays with listeners, making his music memorable and impactful. Hueso is a creative and determined dream-chaser, who dedicates his time to investing in himself and his craft. To stay consistent, he spends days and nights revising and editing his creative processes of songwriting, melodies, and eye-catching concepts and visuals.
Music has always played an essential role in Hueso's life. From a young age, he took piano and drum lessons, which helped him develop his musical abilities. As of late, music has been the soundtrack to his accolades, daily routines, and personal heartbreak. As an artist, Hueso embraces the challenges and obstacles that come his way, using them as inspiration for his music.
Ironically, the project titled "Legacy" is where the Hueso story begins. The mixtape is a reflection of his journey as an artist and his personal experiences, which have shaped his identity and sound. "Legacy" is a testament to Hueso's dedication and hard work, which has led him to where he is today.
Hueso has big plans heading into 2023, and he is excited to share his new music with his fans. He is known for his uncanny ability to tell stories and provide insight into his life experiences, making his music relatable and authentic. Hueso is from Ottawa, Ontario, Canada, and he is a proud representative of his hometown. His genre is Hip-Hop/Rap, but he is not limited by it, as he continues to explore new sounds and genres in his music.
In conclusion, Hueso is a rising talent in the music industry, who is determined to leave his mark and make a lasting impact. His music is unique, authentic, and memorable, making him a fan favorite. He is a dedicated dream-chaser who invests in himself and his craft, and he is excited to see what the future holds for him.
https://open.spotify.com/artist/5px5qdwlkLxEYOBRKDBlyI?si=l6C06wlkSuKODzsMNdNMDg
© 2023, Logan. All rights reserved.