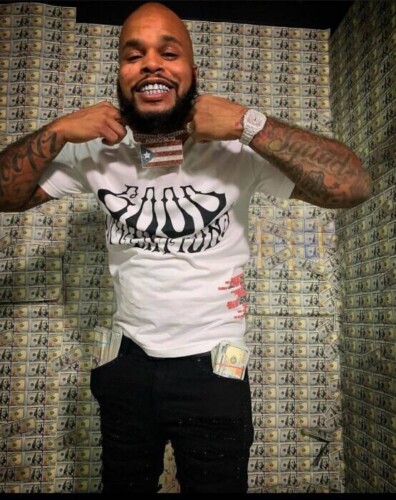 EC Puerto Rico is an independent rap artist hailing from East Cleveland, Ohio. With a compelling style and a dedication to storytelling, EC Puerto Rico's music resonates with listeners, offering a glimpse into his personal experiences and growth as an artist. His upcoming album, "RICHHBABY 2," showcases his unique sound and serves as a testament to his determination to make his mark in the rap industry.
East Cleveland, Ohio Rising rap artist EC Puerto Rico is set to captivate listeners with his highly anticipated album, "RICHHBABY 2," which is scheduled for release in 2023, under his own label, CashGang Entertainment. This release marks a significant milestone in EC Puerto Rico's career as he showcases his unique style and shares personal experiences that have shaped his life.
With an impressive five years of experience in the rap industry, EC Puerto Rico has honed his skills and developed a distinct sound that resonates with his growing fanbase. Drawing inspiration from his own lifestyle, EC Puerto Rico's raw and authentic lyricism paints a vivid picture of his past struggles and the journey that led him to where he is today.
Influenced by rap icons such as Gucci and Future, EC Puerto Rico brings a fresh perspective to the genre. His admiration for Master P as an influencer and his desire to collaborate with artists like Lil Baby and Moneybagg Yo highlight his ambition to collaborate with some of the industry's biggest names.
"RICHHBABY 2" features collaborations with renowned artists Rio da Yung Og and Icewear Vezzo, showcasing the diversity and talent that EC Puerto Rico brings to his music. The album also boasts the production prowess of DJ Drama, a notable producer known for his work with chart-topping artists.
One of the standout tracks on the album, "Rich Off Loads," reflects EC Puerto Rico's journey from managing other artists and investing in their careers, only to face setbacks when they encountered legal troubles. This experience prompted EC Puerto Rico to redirect his focus, investing in himself and becoming an independent artist.
EC Puerto Rico's unwavering determination to succeed and his strong support system, including his family, have been instrumental in his pursuit of greatness. Reflecting on his past experiences, including a difficult period spent in prison, EC Puerto Rico hopes to inspire others through his music and demonstrate the resilience required to overcome life's challenges.
As he prepares for the release of "RICHHBABY 2," EC Puerto Rico has his sights set on a nationwide tour, with planned stops in Atlanta, Detroit, Los Angeles, and many more. He envisions reaching major labels and solidifying his position as a legendary artist within the rap industry.
Beyond the realm of hip-hop, EC Puerto Rico draws inspiration from his children, who serve as a driving force behind his dedication and work ethic. His commitment to excellence fuels his desire to achieve platinum record status and reach new heights in his career.
For media inquiries, interviews, or booking requests, please contact: CashGang Entertainment
Email: [email protected]
To stay updated on EC Puerto Rico latest releases and upcoming tour dates, follow him on social media:
Instagram: @ec  puertorico
© 2023, Logan. All rights reserved.