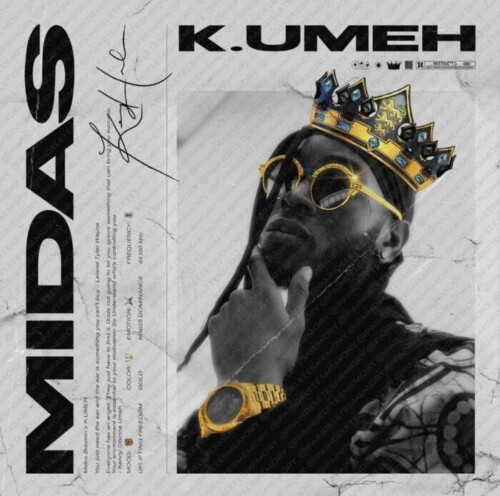 K.Umēh has released "Midas". Midas is a melodic rap record that touches on Racial InJustice, The Earth's Freedom, & Black Lives Matter. This is an uplifting song to remind us about our freedom in the world. The emotion of this song is upbeat, with the feeling of royalty and dominance. K.Umēh has a feature from Metro Boomin showing love to him and his city on the record to create a future uprising. K.Umēh's lyrics and melodies are combined to create a unique sound of frequency.
One Voice Applied Music, also known as OVA Music is an international multinational music company. Owned by the parent conglomerate Obinna Systems Inc, partnering with Apple Inc. One Voice Applied Music is owned by CEO Kenny Obinna Umeh aka K.Umēh. K.Umēh is a well-respected international artist working between Nigeria, the United States, and the U.K. He works in hip hop, rap, and pop. He is able to create original luxury content, having direction on his creativity and ideas, and innovating information that nobody has witnessed on earth. His writing abilities are useful to the music industry, as he is creating tools to better the world's mental, spiritual and emotional health through sound. Called "The Future Prodigy" of the music industry.
K.UMĒH is a walking bag of Charisma, equipped with natural leadership qualities, an infectious attitude, this man is TALENTED, well rounded and a complete achiever in anything he puts his mind to, his new generational sound never ceases not knowing what to expect in spite of his endless potential. 
K.UMĒH is more than an artist, he is a sound. When he is asked whether he raps, sings, or plays an instrument, he replies with " I AM A FREQUENCY" 
With an explosive collaboration of gifted minds from various spheres and inspiration from creative visionaries who have blazed trails, One of One Voice Applied's mission is to give independent artists, designers, and creatives insight into a deeper way of thinking through art and science while offering a platform that amplifies their voices and expands their reach to the society around them. 
When viewing the song, be sure to zoom into the cover to understand the mood, color, emotion, and frequency of the record. A style that K.Umēh is introducing to his cover arts for his sound. K.Umēh also provides a quote from Metro Boomin on the cover of the single. 
Listen To Midas ft Metro Boomin Here: https://fanlink.to/umehmidas
Genius Lyrics : Kumeh-midas-lyrics
Profiles:
© 2023, StanleyGatero. All rights reserved.