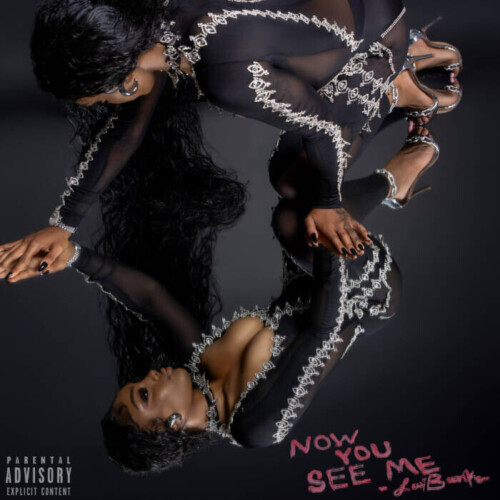 Applying R&B vocal chops and sharp songwriting skills to club-style instrumentals, Lay Bankz is one of the most talented artist in a bustling Philly scene. The 19-year-old singer, rapper, and dancer continues to redefine what it means to be a club music vocalist on her debut EP, Now You See Me, out now. Assembled with assistance from her frequent collaborator JUMBO, the 7-track EP has no shortage of high-BPM bangers: "Ick" is a ferocious club-rap song about the moment sparks stop flying, while pre-release single "Throw Dat" is a relentless dancefloor anthem. On the other hand, Now You See Me gives Lay the opportunity to flex her vocal chops, on the trap-style, radio ready "Smackdown," the slowed-down club beat of "IDFWU," and breathtaking closing ballad "Flowers," a waltz-time plea for recognition that recalls torch songs by R&B divas past.
Now You See Me is home to Lay Bankz's recent viral hit "Na Na Na." An impossibly energetic, fast-paced anthem, "Na Na Na" is a clarion call to the dancefloor, as Lay builds on the titular playground chant with tongue-twisting bars, before floating over the track with a melodic bridge. To date, the song has generated 15.9 million global streams (1.9m global streams per week) and over 179K creates on TikTok. Recently mentioned as a potential Song of the Summer for 2023 by The FADER, "Na Na Na" has been featured on key playlists such as Spotify's Most Necessary, Feelin' Myself, Internet People and the cover of Jersey Club Heat. Filmed in Miami during spring break, the official music video has reached over 900k+ views, with over 170k YouTube shorts creates.
"Na Na Na" and Now You See Me continue to exhibit why Lay Bankz is one of the most exciting risers in hip-hop and R&B today. Lay Bankz first emerged onto the scene as a dancer, gaining a following on social media with her energetic interpretations of regional dance moves, like the "blick." When she built a large enough platform, she showed the world her true talent with the viral hit "Left Cheek (Doo Doo Blick)," a club and R&B hybrid that generated nearly 450k creations on TikTok. The success of "Doo Doo Blick" established Bankz as a bonafide TikTok phenomenon–wit over 1.5 million followers and 61 million likes–and one of the most sought-after talents in the club scene–she showed off her chops on "PIANO," a highlight from Bandmanrill's debut album, and recently got a call from Ciara, who recruited Lay Bankz to appear on the "Dance Mix" of her new single "Da Girls." Videos of Lay dancing with Ciara generated over 1 million combined views on TikTok. Lay earned critical acclaim from Pitchfork for her seamless club-n-b single "In My Bag," and showed off her bars in a a performance with On The Radar. Most recently, she was mentioned by Complex as a Philly artist on the rise in their list of The Best Rap Cities Right Now.
Stay tuned for much more from Lay Bankz, as she continues to make waves as the new face of club music.
© 2023, Seth "Digital Crates" Barmash. All rights reserved.