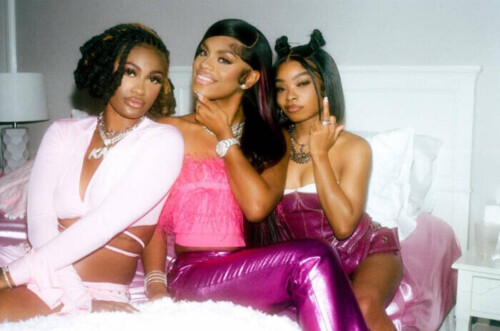 Brooklyn bombshell BreezyLYN unites with Lola Brooke and Kali for the official remix to her breakout single "Bad Bitches." The empowerment anthem, with over 7 million worldwide streams to date, elevates to new heights with slick wordplay and flamboyant verses bursting with feminine energy. Directed by Jerry Morka and Yazmine Fowler, the dazzling music video finds the illustrious trio of Bad Bitch University celebrating girl power with a lavish house party. Watch the music video premiere on Complex here.
"I'm very excited to share this moment with my girls Lola and Kali," shares BreezyLYN. "They've been so supportive of this song, so it was only right they bless the remix. The vibe on set was amazing because we genuinely rock with each other and respect our crafts. We did this for all women who want to feel empowered and confident in their own skin."
The all-star remix arrives on the heels of BreezyLYN being announced as the first signee to the label partnership with 300 Entertainment and Remain Solid, the imprint founded by executive and powerhouse manager 100k Track. The joint venture will usher in a new wave of emerging musical talent with BreezyLYN poised to become one of rap's rising phenoms.
"BreezyLYN is the first female act signed to Remain Solid and I'm honored to partner with 300 to bring her artistic vision to life," states 100K Track, CEO, Remain Solid. "Her music has that magnetic energy of classic New York but with a unique and inspired perspective. Women are dominating the music game right now and she's carving her own lane within that movement."
"BreezyLYN is a defiant lyricist with undeniable star quality," says Rayna Bass and Selim Bouab, Co-Presidents, 300 Entertainment. "We pride ourselves on developing the best new artists at 300 and we've only scratched the surface of her potential. We look forward to working alongside Track and his team to propel BreezyLYN into greatness."
Combining a childhood nickname with the vibrant city that raised her, BreezyLYN is ready to strike as the bonafide breakout rapper from Brooklyn. Born in Bedford-Stuyvesant, she has quietly risen up from Marcy Houses—the neighborhood immortalized by Hip-Hop icon JAY-Z. Now, she continues her hometown's legacy with her explosive debut single "Bad Bitches," an unapologetic anthem packed with a message of self-love and self-expression. The drill-centric track has generated millions of streams globally and earned plugs from Cardi B, Coi Leray, Coco Jones, Ashanti and more. Lola Brooke invited BreezyLYN to perform during her set at Barclays Center in March, a powerful moment of unity for the next generation of women in rap. BreezyLYN's forthcoming debut project is jam-packed with hard-hitting bars exuding the confidence of a self-assured young woman.
© 2023, Seth "Digital Crates" Barmash. All rights reserved.