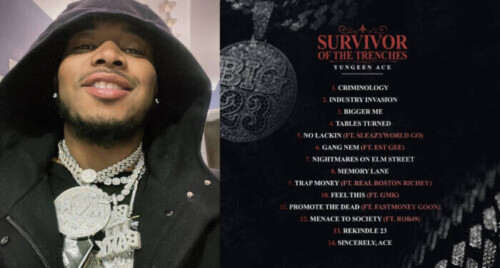 Happy New Year HiphopSince1987 viewers! We're starting the year 2023 off on a great note and I hope you are too! As some of you may know rapper, Yungeen Ace has recently released his highly anticipated album titled "Survivor of The Trenches". As a fan of music most listeners believe the introduction to an album is everything. Music Producer and CEO of Most Valuable Music, "6 Points" is featured on the album doing what producers do best! 6 Points decided to stop by and give us the breakdown of his experience working with the hit maker Yungeen Ace and what he, 6 Points has up next!
6 Points! Welcome in, tell us about what you and Yungeen Ace cooked up!
 "Yeah it released December 2, 2022. It's called "Survivor of the Trenches". The song I produced was the 1st one called "Criminology". I produced it with my producer brothers in a group called Key Kartel."
How was it working with Yungeen Ace and how long did it take to create with him?
 "Man working with Yungeen Ace was a blessing for real! I remember my boy Yung Romo Beatz brought the opportunity to us and said Ace was looking for some beats. So we created some vibes and Romo submitted them to Yungeen Ace's engineer. Few weeks later Romo said we were going to end up on Yungeen Ace's new album! I was soo live. We all were really! It was confirmation that we had what it takes to continue working in this industry and let us know we're on the right track."
Can we expect more collaborations from you and Yungeen Ace?
 "I guess only God knows that answer but I'm definitely down to keep working with him! Let's run it back and keep it going!"
What do you think makes a producer a "great producer"?
 "What I think makes a great producer is someone that can take something from nothing and make it interesting enough for an artist to be inspired to add their own creativity. Someone that can bring out the most in all the individuals involved with the song and make any adjustments necessary for the record to be undeniable."
 What's your next project to come? Are you working with any special artist?
 "Man— I have some songs getting ready to drop with the artists that I've been building with! Angeline and Famous Los have a crazy record getting ready to come out soon. I also have some more work with my artist Pupon The Don in the works as well as my guy Myk Lee. We workin'! Special projects are still in the works right now. I can't speak too much with the bigger named artists at the moment but, stay tuned and you'll see the magic when they drop as well haha."
So MVM Records is your label right? Talk to us about what's to come.
"Yeah! Most Valuable Music Records (MVM) is definitely on the rise and we're going to be dropping a lot more music in 2023! Our goal is to make undeniable music that lasts forever. I spoke on it a little bit with the new music from the lastv question asked. So be on the lookout for Canada's very own "Angeline" to kill it in the R&B/Dancehall lane in '23. Her sound is a very soft melodic and soothing sound that listeners are going to crave in '23. Also Los Angeles very own "Pupon The Don" is set to make some real noise in '23 as well too!  His range of Alternative Hip Hop to Country is what really makes him a special individual. "Myk Lee" is a guy you're going to need to tune into as well out of Tampa, FL. His versatility going from Slow R&B jams to fast uptempo Trap/club music is what makes him very unique. We really want to create moments in time with our music, so stay tuned for the vibes we give y'all in '23 and beyond!"
 Special thanks to music producer 6 Points for coming and speaking with us at HipHopSince1987, you're always welcomed back here! More information about 6 Points will be left below! Happy New Year HiphopSince1987 viewers and thank you to tuning into your #1 source for news in Today's music scene! More guest and surprises to come all 2023!
Social Media Handles
Instagram: @6pointsmusic or https://www.instagram.com/6pointsmusic
Twitter: https://www.twitter.com/6pointsmusic
Official 6 Points website: https://www.official6points.com
© 2023, Tedfuel. All rights reserved.