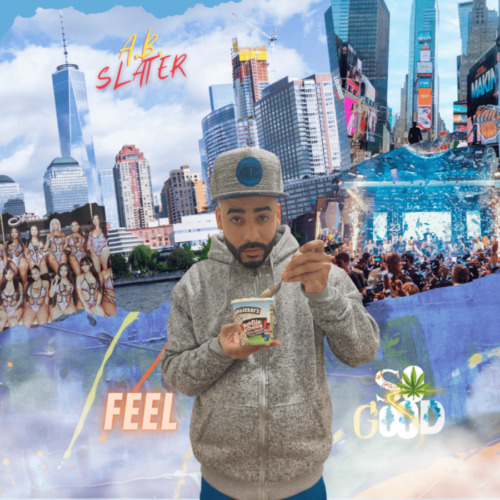 Up-and-coming hip-hop artist A.B. Slater has announced the release of his latest single, "Feel So Good," which is set to drop on April 21, 2023, on all major music platforms. The track is a fusion of classic tunes such as Kool & the Gang's "Hollywood Swinging," Miami Sound Machine's "Bad Boy," and Mase's "Feel So Good," combined with Slater's contemporary lyrics, creating a refreshed and unique sound.

"Feel So Good" is a lively celebration of Hip Hop, enhanced by a modern touch. The blend of the funky guitar riff from "Hollywood Swinging" with a reimagined hook from "Bad Boy," accompanied by A.B. Slater's catchy lyrics, result in an upbeat and contagious party vibe guaranteed to get everyone moving and in a good mood.

His previous EP, "Driller," demonstrated his versatility and ingenuity as he merged drill music with Michael Jackson's "Thriller," creating a distinct and unforgettable sound. In "Feel So Good," he aims to inspire his listeners to feel confident, happy, and uplifted. The track's title embodies its purpose: to create a feel-good atmosphere that is both infectious and enjoyable.

According to Slater, "Today, more than ever, we need to feel good. Even if it's temporary, aim is to spread positivity and party vibes through my music, and I hope that 'Feel So Good' will bring good vibes to all who listen."

What sets A.B. apart from other hip-hop artists is his unique style, comedic and primarily focused on having a good time and enjoying the finer things in life, such as sex, drugs, and partying. Despite the lighthearted nature of his music, he manages to infuse it with depth and complexity through his skillful use of wordplay, metaphors, and storytelling.

Slater's smooth and eortless delivery, combined with his impressive range of flows, keeps his listeners engaged and entertained. His lyrics are often accompanied by clever punchlines that are both amusing and thought-provoking, and he has a talent for weaving together disparate elements to create a cohesive and engaging narrative.
Fans can expect "Feel So Good" on April 21, 2023.
https://www.tiktok.com/@a.b.slater
https://www.instagram.com/realabslater/
© 2023, AMMPRO. All rights reserved.