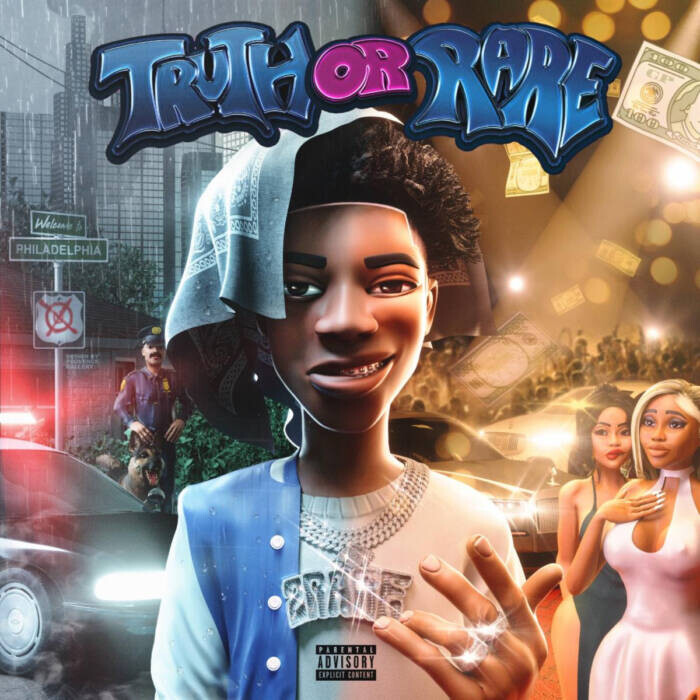 Last Friday, Philadelphia rapper 2Rare releases his infectious new mixtape Truth or Rare. Listen HERE via Second Estate/Warner Records. Boasting unforgettable hooks, melodies for days, instant party-starters, and a who's-who of hip-hop features including NLE Choppa, Lil Durk, Sha Ek, and SleazyWorld Go, the new release showcases a lyricist and performer leveling up in every way imaginable. He also unveils a new video for the infectious "Lady-Cop" which samples TLC's "No Scrubs."
The mixtape kicks off with his latest single "Rare Story Pt.2," a propulsive crowd-pleaser and follow-up to the 2021 underground hit "Rare Story." Also included is Rare's track "Don't Run," featuring NLE Choppa, an explosive take on Salt-N-Pepa's "Push It." Another highlight of the release is the danceable "Rare Steppa." Other noteworthy tracks include "Bank Rolls" featuring Sha Ek, "Baby Father," and "Lady Cop" which is accompanied by a video that showcases Rare's sense of humor as he is under arrest by a couple of dirty cops.
The mixtape's arrival caps months of new music from the 23-year-old, whose versatility and ear for addictive yet insightful hip-hop knows no bounds. Beyond tracks featured on the release, 2Rare lent his talents to NLE Choppa's "Do It Again," which has already gone RIAA Certified Gold. Additionally, he was recently featured in XXL's 2023 "Freshman Class," in which they sing the MC's praises for his drive to break out bigger than ever.
Considering the talent and club-ready production of Truth or Rare, it's only a matter of time before 2Rare's goal of superstardom comes to fruition.
© 2023, alanna. All rights reserved.