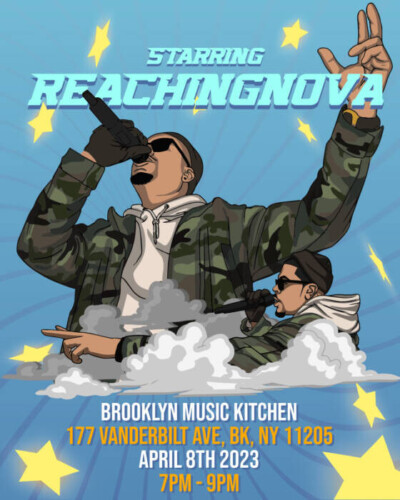 ReachingNOVA is a rap artist who is always looking for the opportunity to keep pushing his creativity forward. He's often found collaborating with like-minded performers live or in the studio, continually working to give his audience a spectacular experience. Speaking of listeners, ReachingNOVA has recently announced a new headline show at Brooklyn Music Kitchen on April 8th, 2023 – So save the date! This is going to be an unforgettable night for ReachingNOVA. Not only headlining a show in Brooklyn is a treat in its own right, but the artist has a lot in store for fans. This show will be the first time ReachingNOVA will perform material from his successful album, Becoming Timeless, which was released recently. Because of COVID-19 and all the limitations it imposed on musicians, the artist focused on studio work and perfecting his craft over the past few years. However, he has been taking on the stage more and more now that things are in the clear. He can't wait to perform some of the songs on "Becoming Timeless" for his fans in a live setting. With its indelible ties with Hip Hop culture, Brooklyn couldn't have been a more perfect place for ReachingNOVA to showcase the tracks from Becoming Timeless on stage for the first time. The artist, who hails from The Bronx, has been making music since 2004 – That's 19 years of rap, and he's still going strong in the game! The artist took music even more seriously, transcending his role as a rapper, and eventually becoming a record label co-founder in 2010 when he created Kings Legacy. The following years were pivotal for ReachingNOVA, who established a partnership with other heavy hitters, such as rapper Pusha Preme, with whom he often collaborates to this day!
ReachingNOVA continued to release quality music, but his album "Becoming Timeless" hits on a whole new level, channeling all the energy, creativity, and passion that has inspired ReachingNOVA to jump behind the mic since day one.
Learn more about ReachingNOVA's music and stay tuned for details on the artist's upcoming show at Brooklyn Music Kitchen on April 8th, 2023. Doors open early, with the concert going from 7 PM to 9 PM. Tickets are available at $20 each, and fans will be able to purchase merchandise from ReachingNOVA, Kings Legacy, and Queens Legacy alike! Merch items are also available online via the artist's official website.
reachingnova.com
https://www.instagram.com/reachingnova/
https://www.facebook.com/ReachingNOVA/
© 2023, Logan. All rights reserved.