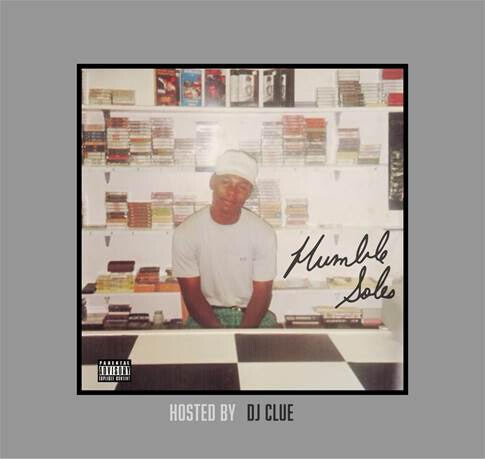 Roc Nation has unveiled its highly anticipated mixtape release, Humble Soles.
The mixtape project, launched to celebrate the 50th Anniversary of Hip Hop this year, features brand new music from the label's hottest emerging rappers and the industry's burgeoning producers. Cultivated as the first-of-its-kind, the collaborative project pays homage to the intersectionality between hip hop and streetwear culture.
Lead tracks such as "Tale Of 2 Legends" by Tyre Hakim and RJAE; "The Takeover" by RJAE, Tyre Hakim, Johnny Cocoa; and "Love is a Mixtape" by Kalan.FrFr and Reuben Vincent set the internet ablaze as special summer previews to this week's full mixtape release. The tape also features a surprise, bonus track "Love Answers All" featuring Rapsody and KentheMan.
"I couldn't be prouder of the artists that have come together for this project," said Emory Jones, the project's executive producer. "Our lineup is made up of leaders shaping the future's sound. They're the most innovative and unique of the game so far – all while remaining humble and hardworking at the same time. This tape is to honor the best-in-class of the genre and I can wholeheartedly say we've achieved just that."
"This mixtape is much more than just a music release. It's a piece of the larger Mixtape campaign we've built that mirrors how hip hop has shaped not just music but culture, public discourse, fashion, and so much more," said Roc Nation Label co-president Shari Bryant. "This tape is special because it is an emblem of the powerful family of Roc Nation voices that have united to build something that commemorates a culture that has given so much back to us."
The tape is a pillar of Roc Nation's overarching partnership with PUMA to roll out the global sports company's second iteration of the collaborative Mixtape Series shoe and apparel collection. Every week, new unreleased mixtape tracks and exclusive content have been uploaded into the scannable, NFC-powered "LGT Tag" of the PUMA Mixtape RS-XL shoe.
The collaborative 360 project is the first-of-its-kind in bringing together a dynamic ecosystem of digital content (Roc Nation's Mixtape Roundtable ft. Wayne "Wayno" Clark, DJ Clue, Nyla Symone, Jim Jones, DJ OG Ron C, DJ Holiday, and Lenny "Lenny S." Santiago and forthcoming doc-series on mixtape culture); sneaker and apparel drops; fashion technology; a national rotation of immersive pop-up events (Houston's Parking Lot Pimpin' event hosted this past July); cypher competitions uniting local artists and much more.
Humble Soles is also underscored by industry veteran, DJ Clue who made an iconic resurgence specifically for the tape after his brief hiatus – once again taking the mixtape game by storm.
Boasting of more than just its music, today's release contributes to the storytelling of the rich history of mixtape culture, celebrating the culture in ways like never before.
Fans can expect additional drops and exciting activations from Roc Nation's Mixtape campaign that will continue to celebrate hip hop 50 through this year.
Humble Soles Mixtape Track List
Intro – Reuben Vincent, RJAE, Huey V

Takeover – Johnny Cocoa, Reuben Vincent, 

RJAE

Chess Not Checkers – Huey V, Tish
Tale Of 2 Legends – Tyre Hakim, 

RJAE

Vic Chops Soul – Vic Mensa
Cypher – Tay Keith, 

RJAE

, Reuben Vincent, Huey V, Tyre Hakim, HDBeenDope
Wild West – Tyre Hakim, Huey V, Shawn Smith
Derek Jeter – Huey V, RJAE
Outsiders – Reuben Vincent, Guapdad 4000, 

RJAE

Stuck In LA – Kaycyy, Reuben Vincent, Guapdad 4000, Ambré
Clockwork – Tyre Hakim, Rapsody, Tish
Selling Lies – Zacari, Reuben Vincent, 

RJAE

Love Is A Mixtape – Kalan.Frfr, Reuben Vincent, HDBeenDope
Love Answers All (Bonus) – Rapsody, KenTheMan
© 2023, Seth "Digital Crates" Barmash. All rights reserved.