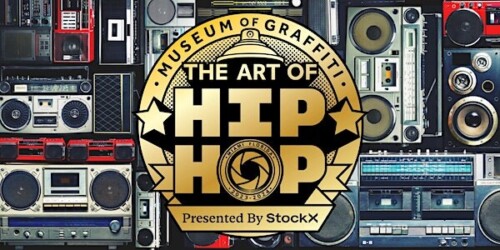 On its 50th anniversary the cultural impact of hip hop can be seen in all aspects of our lives, especially our style. Which is why StockX partnered with the founders of Museum of Graffiti to bring 'The Art of Hip Hop' to life at Art Basel in Miami this December. 
To celebrate hip-hop's legacy, StockX and the Museum of Graffiti have curated a collection of sneakers throughout the decades that were popularized by the genre and the makers and creators within it. Organized by five decades of hip hop spanning from 1973 to 2023, the origins of sneaker culture will be on display, amplified by works from famed hip hop photographers and album cover designers.
StockX will bring these important art forms and iconographies through sneaker culture during Miami Art Basel where music, art and fashion collide.
Sneakers and hip-hop hold a long and meaningful relationship, "Since its inception, hip-hop has revolutionized sneaker culture. Most of our favorite pairs have been defined, in some way, by hip-hop's legacy," said Deena Bahri, StockX CMO, "Over the course of its 50-year history, the genre has been influencing brands and giving them cultural resonance. It is our privilege to work with The Museum of Graffiti to bring its exhibit to life, and to not only celebrate 'The Art of Hip Hop', but to honor the community that has shaped it."
https://www.eventbrite.com/e/the-art-of-hip-hop-presented-by-stockx-tickets-750093548997
© 2023, Seth "Digital Crates" Barmash. All rights reserved.