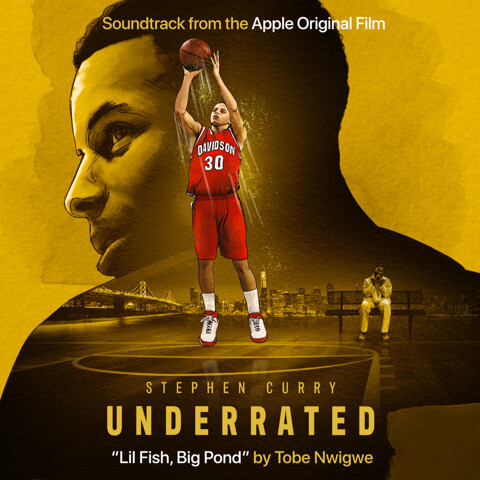 Platoon releases Tobe Nwigwe's new single 'Lil Fish, Big Pond,' from the upcoming Apple Original Film and A24 documentary, "Stephen Curry: Underrated." The single is now available to stream on all major DSPs.
About Tobe Nwigwe
Tobe Nwigwe is an enigma. The lyrics and tone of his music tell the story of a difficult upbringing as a first-generation Nigerian kid in Houston, TX. Tobe has a singular goal in life: "to make purpose popular". 
His music has garnered a lot of attention, from First Lady Michelle Obama, who put his song "I'm Dope" on her workout playlist to fellow hometown icon Beyoncé who featured him prominently on billboards, commercials, and in-store placements nationally for her Adidas x IVY PARK Rodeo collection campaign. 
Tobe holds a best-of performance for NPR's Tiny Desk Concert series quickly reaching millions of views and wide acclaim.
During the pandemic, Tobe went viral on digital platforms for his songs "I Need You To (Breonna Taylor Tribute)" and "Try Jesus." "Try Jesus" reached No. 4 on the Billboard Digital Song Sales chart. 
2022 was a phenomenal year of "firsts" for Tobe, highlighted by the end of year announcement of his first GRAMMY nomination for Best New Artist. Tobe debuted his first motion picture musical score in Black Panther 2: Wakanda Forever in collaboration with Ludwig Göransson. He made his acting debut as a strong supporting character in the critically acclaimed Netflix series, "Mo," playing the role of Mo's best friend, Nick. And Tobe won his first NAACP awards!
In addition to leading performance sets at Something In The Water Fest, Bonnaroo Music Fest, and Austin City Limits Fest, Tobe made his international debut with sold out shows in London, UK and Johannesburg, South Africa. As well as featuring in his first international marketing campaign, led by Italian brand, Moncler, in collaboration with Pharrell Williams, where Tobe led its 70th Anniversary global campaign in print, digital and billboards in Milan and throughout the world. 
Additionally, Tobe released his well received EP, moMINTs, with guest features by Pharrell, 2 Chainz, Chamillionaire, CeeLo Green, Royce da 5'9, Coast Contra and NBA superstar Damian Lillard.
2023 has shown zero signs of slowdown as Tobe is set to make his silver screen debut joining the cast of Transformers: Rise of the Beasts, starring as Reek, best friend to lead character, Noah. He also holds the lone original song in the film, "On My Soul" featuring Nas and Jacob Banks. On the live front, Tobe and squad made a critically acclaimed debut at Coachella and are embarking on multiple tier 1 festivals across the US this summer. The year will round out with new music and some exciting collaborations across fashion, music, and video!
About "Stephen Curry: Underrated" 
"Stephen Curry: Underrated" is the remarkable coming-of-age story of one of the most influential, dynamic and unexpected players in the history of basketball. This feature documentary — blending intimate cinéma vérité, archival footage and on camera interviews — documents Curry's rise from an undersized college player at a small town Division I college to a four-time NBA champion, building one of the most dominant sports dynasties in the world.
"Stephen Curry: Underrated" will premiere in select theaters and globally on Apple TV+ on July 21, 2023
About Apple TV+
Apple TV+ is available on the Apple TV app in over 100 countries and regions, on over 1 billion screens, including iPhone, iPad, Apple TV, Mac, popular smart TVs from Samsung, LG, Sony, VIZIO, TCL and others, Roku and Amazon Fire TV devices, Chromecast with Google TV, PlayStation and Xbox gaming consoles, and at tv.apple.com, for $6.99 per month with a seven-day free trial. For a limited time, customers who purchase and activate a new iPhone, iPad, Apple TV, Mac or iPod touch can enjoy three months of Apple TV+ for free.
© 2023, Seth "Digital Crates" Barmash. All rights reserved.