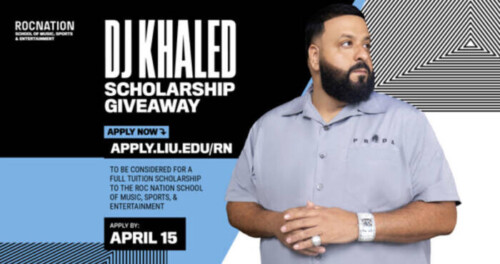 Today, Grammy-winning musician, record executive and entrepreneur DJ Khaled announced plans to offer a full-ride, four-year scholarship for a student seeking to attend the Roc Nation School of Music, Sports and Entertainment at Long Island University (LIU). 
Applications for Khaled's scholarship formally open at 3 pm ET on Feb. 9 at https://apply.liu.edu/rn and the University will accept submissions until 11:59 pm ET on April 15. 
To be eligible for the scholarship, prospective students must be looking to enroll in the Fall 2023 semester. Additionally, applicants must either submit a written or video entry (maximum three minutes) that answers the following questions: 
·       How do you define success? 
·       Please share how the DJ Khaled Scholarship will help you be the best version of yourself. 
·       Where do you see yourself in ten years, and how will you get there? 
"Me and my queen ever since we been together, even before we met each other, we both had a love for giving back," Khaled said. "Giving back has always been a priority in my life and her life. We're raising our kids to see that you have to work hard but also always give back and show love. We have a team that works year-round nonstop on how can we give back, do more, uplift, inspire, motivate and hug all the kids in need. Inspire them to keep going and not just the kids, but also the families, the mothers and fathers and give out scholarships." 
Khaled joins a growing roster of luminaries that have provided scholarships for students looking to attend the Roc Nation School of Music, Sports and Entertainment at LIU, including three-time, Grammy-winning artist Megan Thee Stallion, 2021 NBA Rookie of the Year and Charlotte Hornets guard LaMelo Ball and Grammy Award-winning audio engineer and producer Gimel "Young Guru" Keaton. International sportswear brand PUMA also established the PUMA Hope Scholarship Fund to provide financial support to students in the Roc Nation school. 
The University has also continued to expand its renowned Roc Nation School Speaker Series over the past year, securing Grammy-nominated musician Fat Joe, NFL SVP of Global Brand and Consumer Marketing Marissa Solis, SiriusXM on-air personality Swaggy Sie, among many others. 
© 2023, Seth "Digital Crates" Barmash. All rights reserved.