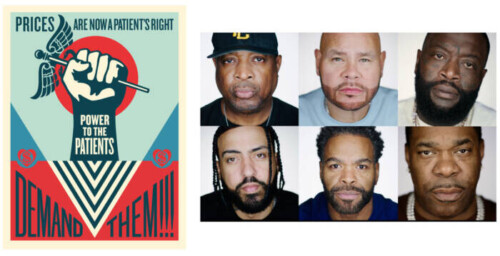 Power to the Patients is a national nonprofit organization, founded by entrepreneur Cynthia Fisher and filmmakers Kevin Morra and Paul J. Morra, dedicated to achieving systemwide price transparency in healthcare. Power to the Patients is focused on supporting federal, state, and city legislative efforts, holding hospitals and insurers accountable for complying with current federal transparency rules, and informing all Americans that they now have the right to know actual prices in healthcare. Additional organization Ambassadors include Academy-Award-winning actress Susan Sarandon, Artist Shepard Fairey, celebrated photographer Martin Schoeller, Grammy, Emmy, and Tony Award-winning actress Cynthia Erivo, and Grammy-nominated artist Valerie June.
Hip-hop legends Fat Joe, Rick Ross, Busta Rhymes, Method Man, French Montana and Chuck D team up with Power to the Patients to unveil a powerful, public service announcement (PSA) that demands our elected officials commit to creating a healthcare system with transparency to allow for more honest, affordable, and equitable health care across the country.
Ahead of Congressional voting on healthcare transparency bills in Washington, D.C., and as part of the PSA, the superstars collectively leverage their respective voices to directly advocate for stronger and more meaningful price transparency laws to force hospitals and insurance companies around the country to post actual prices for their services and procedures. The current federal transparency rules are largely disregarded by hospitals and insurers without consequence from the federal agencies (HHS and CMS) responsible for enforcement.
Additionally, they call out the continued obfuscation of prices by hospitals and insurance companies that solely provide "estimates" or "average prices" instead of "actual prices," which leads the hip-hop icons to describe the issue as the "stifling of competition, overcharges, fear, debt, and devastation all over the country." Public Enemy's frontman Chuck D puts emphasis on the healthcare situation, calling it "an American humanitarian crisis."
The joint advocacy comes after long-standing efforts by Power to the Patients and Grammy-nominated artist and philanthropist Fat Joe, who together visited The White House on multiple occasions and have met with lawmakers on Capitol Hill to express concerns and frustration with the healthcare system and advocate on behalf of patients, families, communities, employees, employers, and unions across the nation.
Earlier this year, Fat Joe and Power To The Patients' joined healthcare transparency efforts by City Council Members and various union groups in New York City, culminating in Mayor Eric Adams signing the Healthcare Accountability and Consumer Protection Act in June 2023. The Act established the nation's first Office of Health Care Accountability to allow New Yorkers to compare costs charged by hospitals for the same services.
Now, as Hip Hop turns 50 years old, Fat Joe and his peers are tackling the issue together, saying they are confronting "a healthcare system that has been rigged against all of us." The six icons go on to note that "hospitals force patients to sign contracts for services without ever showing us actual prices" and that it's "creating so much fear that millions and millions of Americans refuse to enter a hospital, putting our health and our lives at stake."
Of note, medical debt is the leading cause of personal bankruptcy in America and, according to the most recent semi-annual study by Patient Rights Advocate, only 36% of hospitals in America are compliant with the current Federal Price Transparency Rule.
© 2023, Seth "Digital Crates" Barmash. All rights reserved.