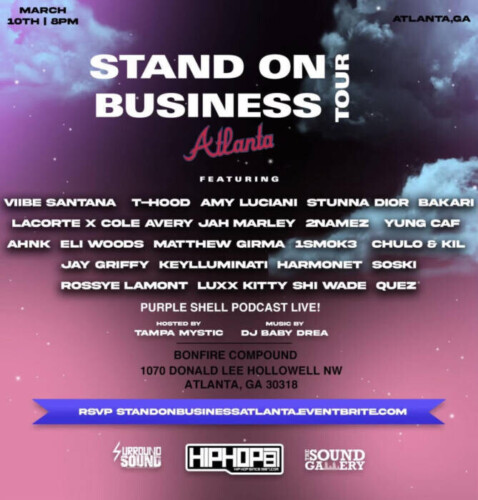 HipHopSince1987 Presents the STAND ON BUSINESS TOUR Atlanta powered by Surround Sound and The Sound Gallery on March, 10th 2023.
Live from Atlanta HipHopSince1987 brings some of the best artists, producers, DJ's, and podcasters to the stage warming up for South By Southwest.
The show is hosted by Tampa Mystic with music by DJ Baby Drea.
THE SHOW IS FEATURING
VIIBE SANTANA
T HOOD AMY LUCIANI STUNNA DIOR BAKARI
LACORTE X COLE AVERY JAH MARLEY 2NAMEZ
YUNG CAF AHNK ELI WOODS MATTHEW GIRMA
ISMOK3 CHULO & KIL JAY GRIFFY KEYLLUMINATI
HARMONET SOSKI ROSSYE LAMONT LUXX KITTY SHI WADE QUEZ
WITH THE PURPLE SHELL PODCAST LIVE!
BONFIRE COMPOUND
1070 DONALD LEE HOLLOWELL NW
ATLANTA, GA 30318
RSVP STANDONBUSINESSATLANTA.EVENTBRITE.COM
© 2023, Seth "Digital Crates" Barmash. All rights reserved.