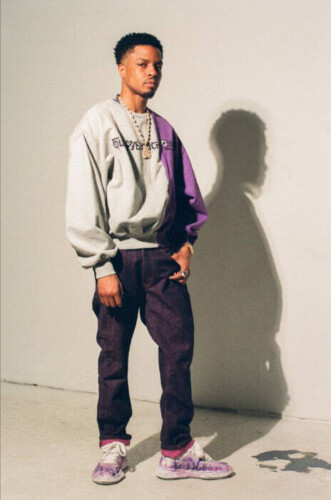 Photo Credit: Chris "Ceez" Nunez Saunders
When Pi'erre Bourne formed SossHouse, he had a vision of a collective or artists, united not by their similar qualities, but by what makes them distinct. Over the years, the Grammy-winning artist, producer, and entrepreneur cultivated a diverse and talented roster for the SossHouse label, and now, he's ready to showcase their talents. Today, Pi'erre Bourne announces the upcoming slate of projects by SossHouse artists: six mixtapes by SossHouse artists, each one produced in full by Pi'erre himself, released over the next six weeks.
The SossHouse Spring starts this Friday with Still Trapp'N, a new mixtape by Frazier Trill. Hailing from Greenville, South Carolina, Frazier is a longtime signee to SossHouse, specializing in tough-talking, streetwise bars delivered through a thick Southern drawl. The upcoming Still Trapp'n is the follow-up to Trill's 2021 mixtape, titled Frazier Trill, featuring guest spots from fellow SossHouse rappers Jelly and Bermuda Yae. Featuring hard-hitting, ethereal beats from Pi'erre and a tracklist to be announced, Still Trapp'n arrives on May 5th via SossHouse.
Still Trapp'n is only the first release in a stacked season of standout full-lengths. Next in line is Chavo and his anticipated mixtape Chavo's World 3. The rising hitmaker is known for the 2021 viral hit "Michigan," which eventually earned a remix with Babyface Ray, and recently collabed with Pi'erre for the "Call On Me" single and A$AP Ant and G.T. for the spicy "Wasabi" video. Chavo's World 3 arrives on May 12th.
Third in line is Sharc, a Queens, NY-born rapper and one of the most promising on the SossHouse roster. Sharc made waves in 2021 with the Pi'erre-produced 47 Meters Down, and with "Drunk N Nasty," a GOLD certified collaboration from Pi'erre's The Life Of Pablo 5. The sequel to 47 Meters Down, Sharc Wave hits the streets on May 19th.
Chavo, Sharc, and Jelly, the SossHouse rapper behind the acclaimed project The Wolf of Peachtree 2, will perform on "The Hardest Out Tour" this May. A blistering 4-date showcase of SossHouse's singular style, "The Hardest Out Tour" kicks off in Houston on May 24th, continues in New York (May 25th) and Atlanta (May 27th) before finishing up in Los Angeles on May 28th. Tickets for "The Hardest Out Tour" are available now at MoveForwardMusic.com
Stay tuned later in the spring for new mixtapes from Atlanta's Bermuda Yae, Spartanburg, SC's favorite son J Billz, and Detroit rapper/producer Kura.
With these projects on deck, and the recent release of his own Grails EP, Pi'erre Bourne is proving himself to be the hardest working man in rap music. Guided by his vision and unmatchable work ethic, SossHouse season is only just beginning.
View the full schedule of releases below:
5/5 Frazier Trill – Still Trapp'N
5/12 Chavo – Chavo's World 3
5/19 Sharc – Sharc Wave
6/2 J Billz – Streetz Hottest Young'n
6/9 Kura – Born Seditionary
TBA Bermuda Yae – title TBA
The Hardest Out Tour dates:
5/24 – Houston, White Oak Upstairs
5/25 – NYC, SOB's
5/27 – Atlanta, Aisle 5
5/28 – Los Angeles, Los Globos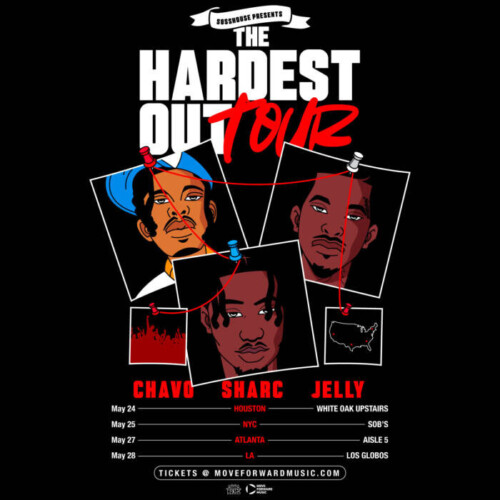 © 2023, Seth "Digital Crates" Barmash. All rights reserved.