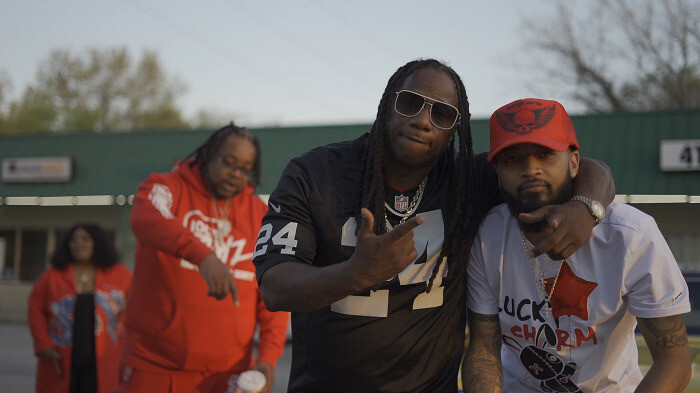 In 
Dewey Da Don's
 song "
Picture Me Sliding
" ft. 
J-Diggs
, the artist draws inspiration from personal experiences and the injustice faced by friends and family members caught up in the criminal justice system. The song serves as a heartfelt message to his incarcerated father, expressing love and support while shedding light on the struggles faced by those impacted by incarceration. With J-Diggs, a renowned artist from California's Bay Area, joining Dewey Da Don on the track, the collaboration symbolizes the musical and street ties between Kansas City and California. The song's music video was shot in Kansas City, featuring Dewey Da Don's close friends and family, emphasizing the importance of his support system.
For Dewey Da Don, "
Picture Me Sliding
" holds a special place as it began as a heartfelt letter to his incarcerated father. It represents a personal conversation, detailing the artist's experiences and ensuring his father that he has work lined up for him upon his release. Having J-Diggs collaborate on the track adds to its significance, as it showcases Dewey Da Don's growth as an artist and the connection between two distinct musical cultures. The song not only serves as a personal tribute but also highlights the need for support and opportunities for those reentering society after incarceration.
One of the standout lines in the song is, "Why they take my Nigga, they ain't think that I would slide for ya, Ride for ya, say my nigga I'd die for you."  This particular line encapsulates the underlying motivation and emotional intensity that runs throughout the entire song. It showcases the pain, dedication, and unwavering loyalty Dewey Da Don feels towards his incarcerated loved ones, demonstrating his willingness to go to great lengths to support and protect them.
Additionally, Dewey Da Don reveals that he has an upcoming collaboration with Tech N9ne titled "Damn." This exciting future release promises to bring together two talented artists and further solidify Dewey Da Don's presence in the music industry.
© 2023, MysticsEnt. All rights reserved.