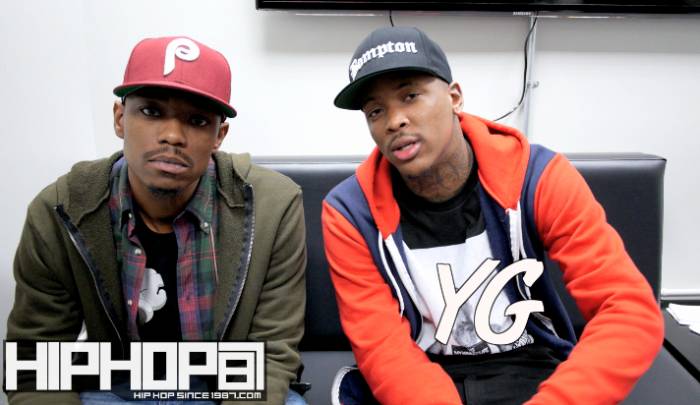 2014 is off to an amazing start for Hip-Hop music with Rick Ross, Schoolboy Q, and Kid Cudi dropping well-received, first quarter releases that are sure to set the tone for the rest of the year. Adding his name to the mix with a stellar debut album is Compton-based, Def Jam/CTE representative YG. With a platinum single, solid fan support in the streets and on the web, and as a major proponent of the sound that has come to define the resurging West Coast, YG sat down with our very own E-Money to speak on his debut album, My Krazy Life, working with his mentor Jeezy and transitioning from running the streets to running rap.
YG fans who are afraid that the music industry will change him can rest easy; despite his success, the California emcee has vowed to stay true to himself.
"It's good [but] I'm still regular though," he told E-Money. "I feel the love from the people but […] you know how [people] get platinum singles [or] platinum albums and they switch up? I'm still the same nigga."
The Young Gangsta also spoke on how Jeezy's veteran insight helped him make My Krazy Life a well-rounded album.
"Jeezy just overlooked the project [while] I was making the music. I ain't never had problems with making the music so [when] Jeezy came in he was just giving me advice on certain stuff that I was new to, just as far as the album [and] putting the together an album [as a complete] body of work."
YG went on to credit Jeezy with campaigning in the Def Jam offices to ensure that My Krazy Life saw the light of day.
"He was really going hard for me at the label," he divulged, "[with] press and all that. Cause if you ain't got that your album […] most likely it ain't gonna come out. So he [was] part of the reason why my album came out [and] why they put the money behind it."
Even with Jeezy in his corner, My Krazy Life could not avoid the inevitable internet leak. Although YG admitted that this initially upset him, he says that in the end it worked in his favor.
"I was kinda hot at first, but then I started seeing the reviews [and] reactions and everybody started talking and hitting me [up about it] then I'm like 'Ok, for sure,'" he said of the leak, "and then it jumped up on the […] iTunes [pre-sale charts] and so yeah, it helped."
With his elevated status as an artist, YG went into detail about how difficult it is to shift from being in the streets to being in the music industry.
"When you busy it ain't hard but when you in the city and you ain't really doing nothing, [your] gonna go back to what [you] know," he admitted. "I'm gonna be in the streets […] with the homies. But when you busy though, you can't [be in streets because] you gotta other shit to do."
Along with those topics, YG spoke on how he and DJ Mustard came up in the game together, what future collaborations to expect from him in 2014, having Ty Dolla Sign's brother, TC, on his album and more.
Check out our interview below, be on the lookout for more exclusive content that you can only find here on HHS1987, and be sure to grab YG's debut, My Krazy Life, on iTunes.
This video was shot by HHS1987's Rick Dange.
© 2014, Dessy Weegar. All rights reserved.