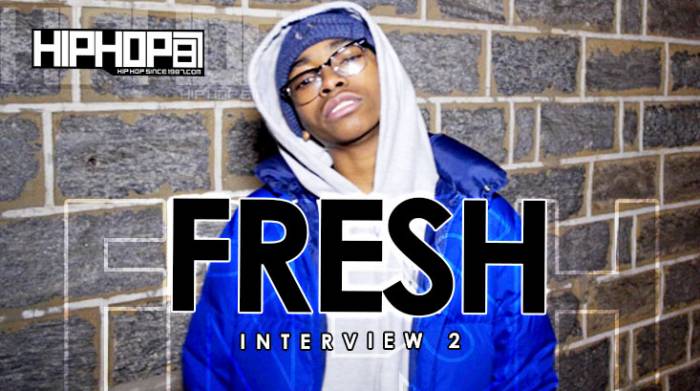 In part two of his HHS1987 interview, Fresh talks about his upcoming mixtape titled 'Dickhead Music Vol. 1'. He decided to do the mixtape because he has all these Philly acquaintances (not friends because he never met them in person before). He plans to shit on the Philly rap scene. How? He is not a rapper but he will be spitting garbage over a Young Chop beat with free features from people who are highly sought after. He has Young Chop, Quilly, Kur, Phat Geez and many others.
It's only right we asked Fresh to spit some bars for the camera. Along with his partner Okey, the two definitely entertains with his freestyle.
Fresh talks about his endorsements and clothing lines. For any upcoming clothing lines interested in sending their clothes to Fresh, he clears the air on what size he needs and what you need to do.
All jokes aside, Fresh talks Meek Mill being his biggest inspiration. He talks being motivated by some of Meek's memorable HHS1987 interview quotes, as well as Dreamchasers Takbar HHS1987 interview.
For 2015, Fresh said he followers can expect more films, more content, a better Fresh, a clothing line and more.
Checkout part one of our interview with Fresh below.
Follow us on Twitter | Instagram
@Fresh60k | @Fresh.215
@Okey60k | @Okey215
@Visionz215
@HipHopSince1987
@BWyche | @BWyche1987
@RickDange
© 2014, @BWyche. All rights reserved.