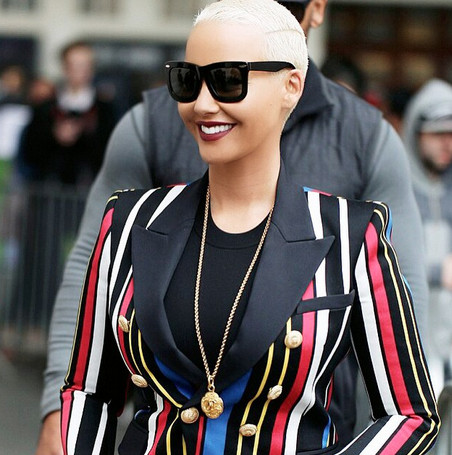 Amber Rose has had quite the year. The model landed her first major acting role, a book deal, the start of a lingerie line, and recently got into a new relationship. The 31-year-old will be hitting the big screen with Eva Marcille and Dre Sidora on May 8 in Sister Code. The movie role inspired her to start a lingerie line to "break molds."
Amb spoke about the movie saying:
I play the baby, the youngest one, the spoiled one, the one that kind of leans on her sister for everything. It's basically just like the growing pains of coming into my own, just becoming my own person…I go on auditions all the time. I'm really excited about acting. I'm actually pretty good. I'm looking forward to it for sure.
She confirmed that she has been wanting to act for a while but had to put things on the back burner. However, she did hint that more roles are to come but she cannot speak on them. While talking to XXL she also gave an update on her forthcoming book saying:
How To Be A Bad Bitch. It'll be out October 27, but it's on pre-sale now on Amazon. It's not [about] being a bitch at all or a mean person, it's being super nice, compassionate, well-spoken, financially stable, learning from your mistakes in life and growing. It's definitely all the mistakes I've made in life; I do get very personal in my book. Just being on that path of being better. I definitely have stories in there from my life, absolutely. I have a lot of stories in there and then also advice. I don't have everything figured out, I'm still learning as I go also. I definitely learned a lot from my mistakes, so it's me giving these girls a heads up before they make the same mistakes.
Later on Amber confirms that she is dating Machine Gun Kelly admitting, "We're enjoying each other's company."
© 2015, Julie Aly. All rights reserved.