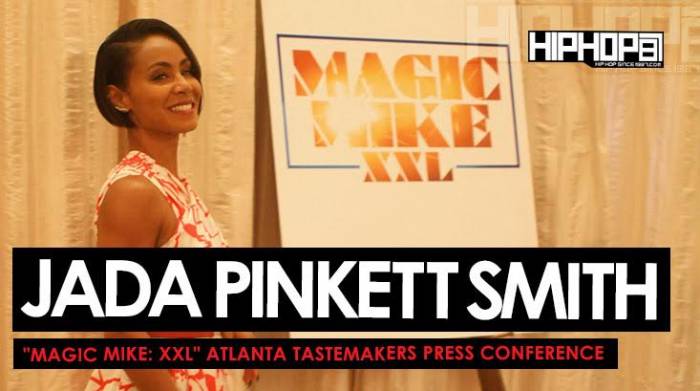 Recently, actress Jada Pinkett Smith was the host of a private press conference here in Atlanta in promotion for her new film "Magic Mike: XXL". Warner Bros. gathered Atlanta's biggest tastemakers for this event and HHS1987's Eldorado and Brian Da Director were on the scene.
Jada Pinkett Smith discussed her role as Rome in the film "Magic Mike: XXL" and she gave us some behind the scenes insight on the filing process. The film "Magic Mike: XXL" picks up the story three years after Mike bowed out of the stripper life at the top of his game, "Magic Mike XXL" finds the remaining Kings of Tampa likewise ready to throw in the towel. But they want to do it their way: burning down the house in one last blow-out performance in Myrtle Beach, and with legendary headliner Magic Mike sharing the spotlight with them. On the road to their final show, with whistle stops in Jacksonville and Savannah to renew old acquaintances and make new friends, Mike and the guys learn some new moves and shake off the past in surprising ways.
The press conference was conducted by HHS1987's Eldorado. The press conference was shot by Brian Da Director.
Follow On Twitter/Instagram:
@jadapsmith
@magicmikemovie
@Eldorado2452
@HipHopSince1987
@BrianDaDirector
© 2015, Eldorado2452. All rights reserved.