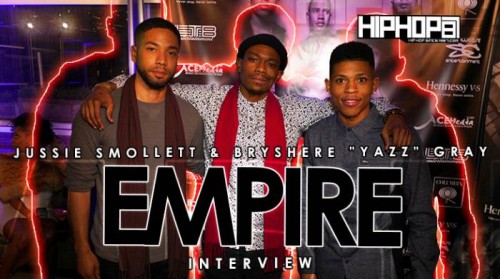 HHS1987's E-Money recently sat down with the stars of Fox new hit TV series Empire. Bryshere "Yazz" Gray and Jussie Smollett discussed an array of topic with HHS1987, including each of their stories on how they landed the Empire role, their music career outside of Empire, and much more.
Empire has literally taken the world by storm & emerged to become one of the biggest shows on television–FOX hasn't seen the type of ratings they're receiving now in years.
E-Money started their conversation with the question almost everyone is curious about, did they envision "Empire" becoming the huge success that it is? Jussie & Yazz knew that it would be something great, especially because of the established names that are involved, but that didn't necessarily mean it was guaranteed to become the phenomenon that it is. Jussie was already an established actor, but this marks Yazz' first role in acting, small or big screen. E-Money asked if they could touch on how that came about & Yazz elaborated on how at first, he didn't want to get into the craft because his first attempt at acting fell short, but he took the risk & landed a place in "The Lyons Den."
You look at actors and always wonder if they really are like the character they play, in real life. To our surprise, Jussie says he IS a lot like Jamal. Yazz isn't the bratty rich kid like the role he plays, thankfully. After a few laughs & mentions about how the ladies department is Yazz' only similarity to Hakeem, they mention how being around great influence like Terrence Howard & Taraji P. Henson helps contribute to what they do as well. They have accomplished enough throughout their career for it to be clearly out of pure love of acting to even do a small-screen series. They both can agree on the fact that just they are truly genuine & caring people. Just about wrapping it up, E-Money tries to take a jab at any possible solo albums coming out from the two, but it's all about EMPIRE right now. Purchase the soundtrack via iTunes here.
This interview was conducted by HHS1987's EMoney and shot by Rick Dange.
Follow us on Twitter | Instagram
@HipHopSince1987
@JussiesMollett
@YazzTheGreatest
@EMoneyBeatz | @BeatEmUpMoney
@RickDange
© 2015, Niyah Nel. All rights reserved.