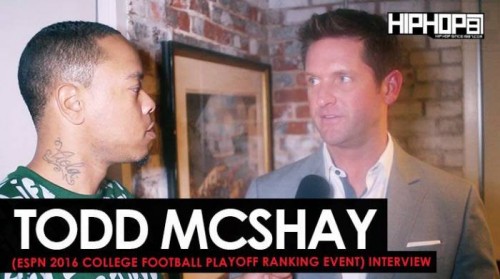 On Tuesday evening, ESPN hosted a private 2016 College Football Playoff Ranking watch event here in Atlanta and several of ESPN's media personalities and sports tastemakers in the Southern region were in attendance to watch and discuss the committees first college football rankings of the year.
During the night, we caught up with ESPN' analyst Todd McShay to get his insight on the 2016 College Football rankings and more. With this just being the first ranking of the 2016 college football season, Todd McShay spoke on the top 4 teams in the country and how the college football playoff picture could change over the next few weeks. Not only did we speak on the NCAA football rankings, Todd McShay also gave us some insight on his potential 2016 Heisman candidates. When I mentioned Louisville's Lamar Jackson, Todd McShay had nothing but great thing to say on his season but mentioned a few other players who could make the cut.
Known for his knowledge in scouting talent from college to the pros, we spoke with Todd McShay on the success of the 2016 NFL rookie class and how Dallas Cowboys quarterback Dak Prescott and Philadelphia Eagles quarterback Carson Wentz are separating themselves from the pack. Before concluding the interview, Todd McShay gave us some insight on the upcoming 2017 NFL Draft and a few names who can make an immediate impact in the NFL in 2017.
The interview was conducted by Terrell Thomas (Eldorado). The interview was shot by Danny Digital.
Follow on Twitter/Instagram:
@ESPN
@McShay13/ @tmcshay
@Eldorado2452
@HipHopSince1987
@DannyDigitall
© 2016, Eldorado2452. All rights reserved.