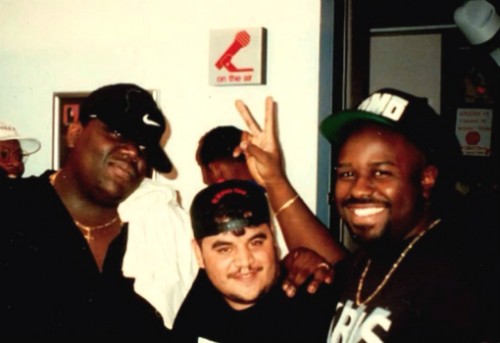 Many people forget how much of a hip hop legend Funkmaster Flex is but he's about to give us all a friendly reminder. Flex has teamed with Karen Hunter to pen a book about The Notorious B.I.G. Hunter has co-authored best-sellers from Al Sharpton, Donda West, LL Cool J, Wendy Williams, and more as well as being a Pulitzer Price winner journalist.
The early stages of Big's career will be reflected upon on in the book as well as how Flex was able to link him to superstars such as Nas. Since the Hot 97 DJ worked closely with the late rapper, even giving him his first major radio show interview, Flex's book will offer fans a whole new perspective of things as well as showcasing a part of Biggie's life and career that has yet to be expressed.
In one excerpt Flex tells us about the origin of "Who Shot Ya" saying, "The song "Who Shot Ya" was originally an intro for Mary J. Blige's album. Uptown/MCA said it was too hard. The song in its original form had a verse from Big, Keith Murray and LL Cool J, though LL never did his verse. The song still exists!"
Hopefully this isn't the only book that Flex plans on penning since I can only image the volumes of phenomenal stories he can write after all the years he has been in the game!
Check out Biggie's first interview with Flex below.
© 2014, Julie Aly. All rights reserved.