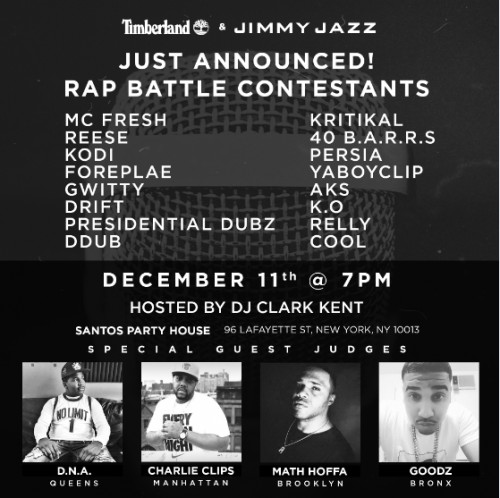 Last month, Jimmy Jazz revealed their exclusive Timberland Helcor boot. To celebrate the occassion, an exclusive video featuring top battle rappers, Math Hoffa, D.N.A., Goodz and Charlie Clips, was released. To keep the celebration going, Jimmy Jazz and Timberland will host a rap battle contest in New York City. Sixteen contestants will go bar for bar for a chance to win $3,000. Taking place at Santos Party House, the battles will be judged by Math Hoffa, D.N.A., Goodz and Charlie Clips.
Contestants: MC Fresh, Reese, Kodi, Foreplae GWitty, Drift, Presidential Dubz, D-Dub, Kritikal,40 B.A.R.R.S., Persia, YaBoyClip, AKS, K.O., Relly and Cool.
Tickets will be sold at select Jimmy Jazz locations in NYC:
1) 239 W 125th St. (Harlem)
2) 520 Fulton St. (Brooklyn)
3) 989 Southern Blvd. (Bronx)
4) 224 E Fordham Rd. (Bronx)
5) 89-48 165th St. (Queens)
© 2015, MariaMyraine. All rights reserved.