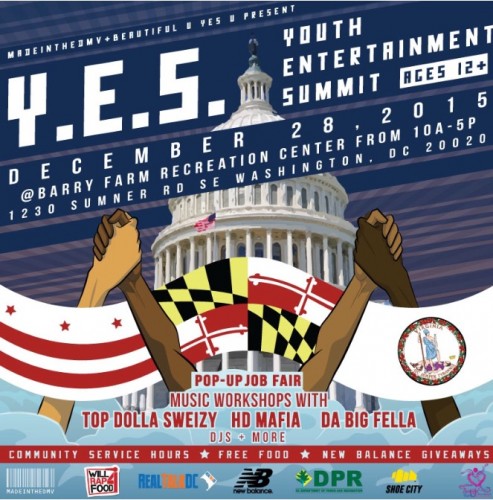 MadeInTheDMV, a think tank for talented DC area artists and organizations, will host our first Youth Entertainment Summit (Y.E.S.) at the Barry Farms Recreation Center on Monday, December 28th. Y.E.S. will be free for youth and will feature workshops and breakout panels on music, sports, entrepreneurship, healthy lifestyle choices and the fashion industry. Scheduled panelists include Osinachi (producer for Tinashe, Ciara, The Black Eyed Peas), Tone P (producer for Wale, Meek Mill and J Cole), Roger Beat (producer for Shy Glizzy, Gucci Mane and Waka Flocka), and rappers Da Big Fella, Top Dolla Sweizy and HD Mikey. Also participating in the workshops will be representatives from Shoe City, House Studio, REALTalkDC, Reebok, The Stokey Project, The Anatomy Projects, WPGC and WKYS.
Made In The DMV Y.E.S will have a pop-up career fair for teens to apply for internships with the participating panelists, partners, and sponsors. Youth who attend the summit will be eligible to receive community service hours, giveaways, free food, and more.
Y.E.S. was created in collaboration with the Washington D.C. Department of Parks and Recreation, Beautiful U Yes U, REALTalkDC, Will Rap 4 Food Inc., Shoe City and New Balance.
The MadeInTheDMV mission is to create opportunities for growth and revenue, to showcase exceptional talent, and serve as a support system and voice for artists locally and worldwide. MadeInTheDMV sponsors monthly events designed to educate and inspire the local arts and entertainment community by bringing together the innovators of the DMV music scene. In the past year, they have worked with influential executives like Rob Markman (MTV), Tuma Basa (Revolt TV), and DJ Quicksilva (BET & WKYS).
Earlier this week, MadeInTheDMV commemorated their anniversary with a private dinner at Blind Whino and announced a partnership with Shoe City in 2016. The partnership was conceived with the help of Roc Nation's Emory Jones, a native of Maryland.
The MadeInTheDMV Youth Entertainment Summit will take place at the Barry Farm Recreation Center (1230 Sumner Rd SE, Washington, DC) on December 28, 2015 from 10:00 am to 5:00 pm. Admission is free and ages 12 and older are welcome to attend. RSVP site/link: bit.ly/MadeInTheDMVYES
© 2015, Oktane. All rights reserved.