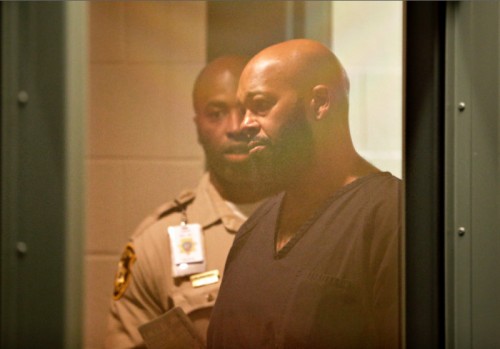 It doesn't look like Suge is going to be able to walk away from trouble this time around. He was recently released from the hospital after suffering from what we originally thought was a panic attack during his last court case, but later found out he fell suddenly ill due to a blood clot.
The 911 call that was made after witnesses saw the former Death Row Records CEO run over 2 people with his car has been released to the public.
New York Daily News Reports:
A witness to the fatal hit-and-run involving Marion (Suge) Knight made a breathless call to 911 after taking photos and trying to follow the co-founder of Death Row Records as he fled the scene, a new recording obtained by the Daily News reveals.

The unidentified female caller frantically dialed 911 after passing by Tam's Burgers in Compton, Calif., Thursday afternoon and seeing the alleged murder and attempted murder in progress, according to the exclusive audio.

"This car ran over two guys. They were fighting and then, um, he just pulled back and pulled forward and run them over," the distressed female caller told the operator.
Suge Knight has been charged for murder & if convicted, will sit down for a life sentence. He pleads not guilty to all charges. Listen below to the 911 call.
© 2015, Niyah Nel. All rights reserved.