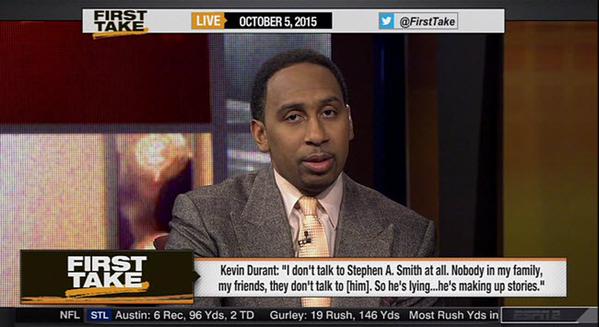 Well, well, well. The saying the "pen is mightier than the sword" seems to go hand and hand with this story here. Last Tuesday, ESPN reporter Stephen A. Smith made a report that former NBA MVP Kevin Durant has the Los Angeles Lakers at the top of his list of teams he would play for if he left the Oklahoma City Thunder and once word got back to Durant he responded.
I will respond to @KDTrey5 on @FirstTake right now!!! Then later too, on my radio show. Like I've said repeatedly, I HIDE FROM NO-DAMN-BODY!

— Stephen A Smith (@stephenasmith) October 5, 2015
In Durant's response, Durant said Stephen A. Smith was lying and all hell broke out after that. During Stephen A. Smith's rant today he said some things that may raise a few eyebrows and very well could have a negative reactions from other NBA players and Kevin Durant himself. I believe Stephen A. Smith is a great reporter but I think some of his comments today may have been overboard and he already believes his words were misconstrue so I'll let you be the judge of that. 
Predictably, the blogosphere is attempting to misconstrue my comments about @KDTrey5 on @FirstTake. That's the beauty of having my own radio — Stephen A Smith (@stephenasmith) October 5, 2015
Checkout Stephen A. Smith addressing Kevin Durant below and tell us what you think of this entire situation.
© 2015, Eldorado2452. All rights reserved.