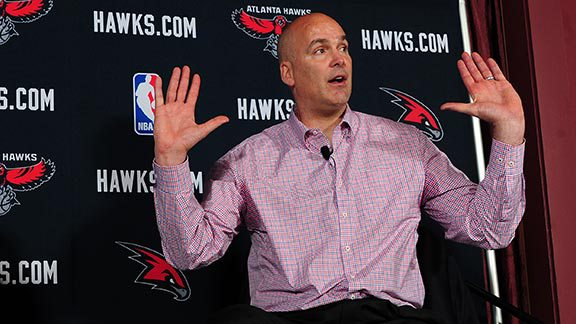 As the Atlanta Hawks look to move toward the future, they has decided to leave all extra baggage behind. Following the comments made about Luol Deng last year by now former GM Danny Ferry, Ferry has decided to step down as the Hawks general manager.
According to the AJC, 
The team announced the buyout of the general manager's contract Monday. The Atlanta Journal-Constitution reported the deal was approved by the team's board of managers Friday after being signed by Ferry in the early morning hours. Ferry had been on an indefinite leave of absence since September following the disclosure of racially insensitive remarks he made last June in a conference call with ownership and management. On Saturday, the AJC obtained copies of letters written to Ferry by the lawfirm Alston and Bird, who conducted an investigation into the matter last June, and from co-owner Todd Foreman clearing him of racial bias. Copies of those letters were attached to the formal annoucement of the buyout.

Ferry has not spoken publicly about the issue since taking the leave. Until now.

Ferry answered a number of questions from the AJC. Here is one. The rest of the interview can be found here on myajc.com.

Q. We reported that the Bernard Taylor investigation cleared you of any racial animus regarding your remarks about Luol Deng. Do you feel vindicated?

A. That's not really for me to say. But I do feel relieved. I've been asking the Hawks for many months to release the results of the Taylor investigation because I wanted everyone to have those facts. For whatever reason, the team refused to release the results until after the season ended. The Taylor investigation included 19 interviews of Hawks owners and employees, and a review of 24,000 emails—including every one I wrote and received as general manager. Both the Taylor investigation and a parallel but independent investigation by the NBA found no negative information about me and not a single incident where I exhibited racial bias during my tenure. Now, does that make my comments about Luol okay? Absolutely not. The words I used from the scouting report came out of my mouth and they were totally inappropriate. I am deeply sorry and take full responsibility.
The Hawks despite having that story hanging over them all year finished as the number one seed in the East and advanced to the 2015 Eastern Conference Finals before losing to the Cleveland Cavs. The Hawks are now under new ownership and they are looking to move into the 2015-16 NBA season with a bang. Stay tuned to HHS1987 for all your sports news.
© 2015, Eldorado2452. All rights reserved.