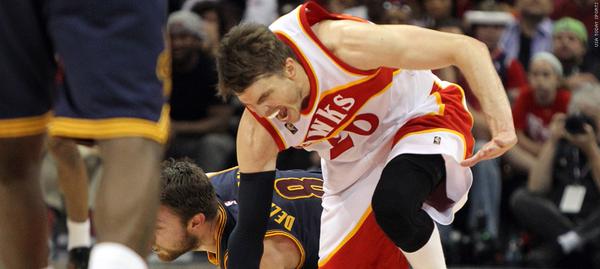 Things just continue to go from bad to worse for the Atlanta Hawks. As if being down (2-0) wasn't bad enough, Atlanta Hawks all-star Kyle Korver suffered an ankle injury during game 2 of the Hawks vs. Cavs series that will have him miss the remainder of the 2015 NBA Playoffs.
According to ESPN, 
Hawks shooting guard Kyle Korver will miss the remainder of the postseason after being diagnosed with a severe right ankle sprain.

The Hawks announced they would be without Korver after an MRI on Saturday confirmed the injury. He will visit a foot and ankle specialist to determine the best course of treatment.

Korver injured the ankle in the third quarter Friday of Atlanta's 94-82 loss to the Cleveland Cavaliers in Game 2 of the Eastern Conference finals.

The All-Star suffered the injury when Cavaliers guard Matthew Dellavedova rolled into him while the two players were pursuing a loose ball.
Without Kyle Korver who was already struggling in the postseason, this series against the Cleveland Cavs is all but over. Game 3 takes place live from Cleveland Sunday night at 8:30pm EST.
© 2015, Eldorado2452. All rights reserved.