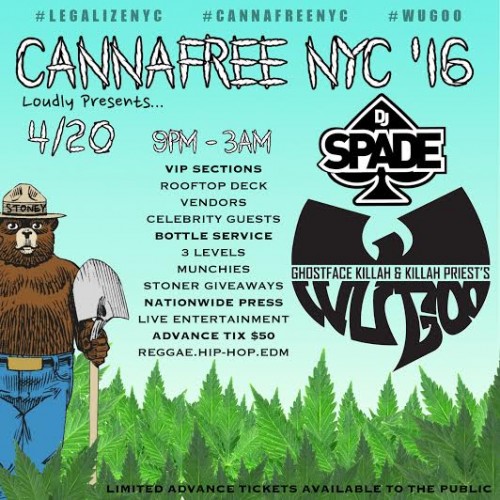 While there are a plethora of events going down on 4/20 in New York City, CannaFree NYC's "#LegalizeNYC" event is definitely something you should add to your To-Do list.
Pushing the "legalize NYC" agenda, the event will host a plethora of Pro-Cannabis business owners, artists and affiliates. Big names such as Ghostface Killah and Killah Priest (Wu-Tang) will be in attendance along with their own cannabis company, WuGoo.
Slink Johnson, of adultswim's "Black Jesus," and Donnell Rawlings, from The Chapelle Show, will play host to the event. Confirmed guests include members of Black Ink Crew, Ol' Dirty Bastard's son, and more.
Venue: Space Ibiza (3 Floors of Hip Hop, EDM & Reggae)
Purchase Tickets: HERE
© 2016, MariaMyraine. All rights reserved.